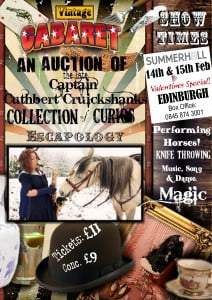 "An Auction of the late Captain Cuthbert Cruickshank's Collection of Curios"
Les Amis d'Onno bring their unmissible brand of Vintage Cabaret to Summerhall, Edinburgh. Les Amis d'Onno's Vintage Cabaret offers all the charm and ambiance of a bygone era, the family run show is good old fashioned entertainment at its very best.  This year's show features an eclectic mix of new and regular acts including Escapology, Performing Dogs, Knife Throwing, Magic, Music, Song and Dance! The performance will take place in the Demonstration room and for these three shows only will include two of Les Amis d'Onno's beautiful performing horses!
Sam Gough from Summerhall said:
"The show appeals to all ages, whether it's the sense of nostalgia or the sheer delight of having never seen the likes before. Together with the troupe's dedication to the preservation of this performance art, the demonstration room is the perfect unusual venue for bringing live horses into the show"
Jedburgh based Les Amis d'Onno are the UK's premier equine-canine stunt team and during the summer months can be seen in their own shows and performing at country shows.  They have recently kick-starter projected the funding for new escapology tank by offering unique experiences such as lessons in stunt riding and Jousting!
http://www.itv.com/news/border/update/2013-12-17/hope-for-borders-cabaret-show-with-new-fundraising-campaign/
Southdean Hall, Scottish Borders 01/02/2014
"What a fantastic night at Southdean Hall! Full to capacity, and kids shouting themselves hoarse with excitement as knives were thrown at glamorous girls, arrows fired by an 'incompetent' Frenchman, and music, dancing and slapstick antics entertained us all. Les Amis d'Onno are a lovely bunch of folk, don't hesitate to see them if you get a chance!"