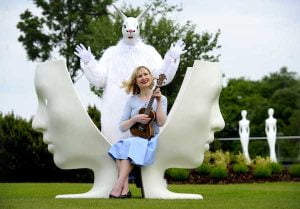 The sun is shining (occasionally) the weather is lifting (to seventeen degrees on occasion) and that can only mean one thing – the Edinburgh Festival Fringe is ready to descend once more.
We are very excited to announce that no less than fourteen Summerhall shows have made it onto the Made In Scotland programme which works with Scottish artists at the festival to promote their work to the world – and enable all to see the best of Scottish.
Here's a wee run down of what to look out for!
Biding Time (remix) are back with their blend of song, screen and silent disco. Our shortest show Viewmaster will take you around the world in 15 minutes in a personal slideshow for your eyes and ears only by poet Ryan Van Winkle and sound artist Dan Gorman.
Chalk About take note or two from the theatre book with chat and we get a chance to see the 'perfect scene containing everything one could wish for' – what's not to get excited about? One for all the family – come ready to draw. Also in the dance programme you will find an intimate space between artists and performers in Miann by Fleur Darkin and Scottish Dance Theatre featuring 4-piece musicians The One Ensemble.
The Scottish play goes back to the roots of Scottish language with a highly theatrical performance in Gaelic – to which all are welcome. MacBHEATHA is brought to Summerhall by White Stag and David Walker. Theatre blurs boundaries when Sisters Anna and Rosana perform together an unflinchingly honest autobiographical play about their experiences – we're delighted to welcome the show that started its life at the Behaviour Festival at The Arches, Glasgow.
In music we welcome a whole host of incredible musicians – from guitar virtuoso Simon Thacker's Ritmata – bringing the world music experiences of four musicians to life on stage. Originally a Celtic Connections commission Fiona Rutherford brings Sleep Sound – inspired by the structure of a night's sleep. Another returning act from Fringe 2013 (and very welcome it is too) are Pumajaw. Song Noir returns with a blend of cult TV and film noir alongside a mind-bending live soundtrack of Pumajaw originals and a blend of scored film music from 'Twin Peaks' to 'The Night of The Deadly'.
Also in music and for three performances each, are both Replaceable Things and Undercurrents. Replaceable Things is two works combining spoken word and electronic soundtracks by Ensemble Thing. Amy Duncan's Undercurrents is a deeply moving show featuring Amy alongside a string trio, harp, base and percussion.
Over at the EICC we partner with Barrowland Ballet on two shows, Tiger Tale and Tiger. Tiger Tale, for age 7+ sees a family's world tip upside down at the arrival of a tiger – alongside Tiger which explores the issues anew for adults as the older sibling of the duo of shows. Both highly site specific shows see Barrowland Ballet inhabiting a cage that both defines the movement of the dancers and captures the chaos and comedy of being a family. Both insightful stories of family relationships.
For that moment where your feet grow weary and the fringe seems insurmountable, Michelle Burke invites you into her memorabilia-bedecked living-room for songs and yarns. Step Into My Parlour for a moment and discover what it's all about over a sherry.
Lots more news on our fantastic Festival 2014 to come over the next few weeks – watch this space….