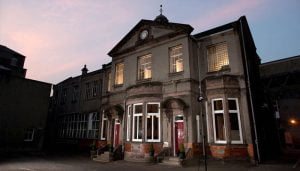 Summerhall is looking a for talented, experienced and enthusiastic bar manager to take on a new position within Summerhall's events and operations team. The roles requires the candidate to be responsible for all aspects of bar delivery for Summerhall's busy event calendar. The successful applicant will be working collaboratively and alongside the F&B manager and the team in The Royal Dick Bar, Summerhall's bar/restaurant.
The ideal candidate will have the following attributes…
Responsible
Trustworthy
Personal Licence Holder
Knowledge of the Scottish bar and licensing.
… and skills and experiences
Experience of managing (multiple) bars
Experience in bar accounting, stock control & ordering.
Experience in delivering necessary training e.g. flow or equivalent
Experience in negotiating prices with suppliers
Be able to create and cost drinks menus
Be able to work to their own budgets
Experience of recruitment a team of like minded individuals
Established relationships with trade suppliers
Working with, motivating and disciplining staff
Knowledge of boutique spirits, cocktails & craft beers
An understanding of beer dispense and upkeep
Experience of working with private and corporate clients
A proven track record of increasing sales and showing initiative in marketing and organising events.
Event / duty management experience for private or ticketed events.
Pro-active seeking out of event opportunities as well as making the current ones work perfectly
Providing event bars that function and operate like proper bars.
Catering experience desirable
This is a new position so we are looking for someone with ideas and willing to get stuck in right at the roots. Someone keen to take on a new role, develop systems and make this their own.
This is a full time position and salary will be dependent on experience.
Please send a CV & a cover letter stating why you think you would be an asset to the team and a recent photograph to recruitment@summerhall.co.uk with Operations Bar Manager in the subject field.
Many thanks and we look forward to hearing from you. The Closing Date for Submissions is Monday 6th July, interviews will be held from 8th July – immediate start possible.