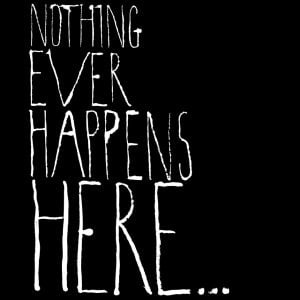 Summerhall's Nothing Ever Happens Here series is a year-round showcase of diverse and boundary-pushing contemporary music from across the world, and this year it will once again be one of the essential platforms for live music in Edinburgh during the festival month of August. Today we're very pleased to reveal new additions to our line-up of national and international live concerts, club nights and showcase events, with titans of the American alt.country scene Grandaddy joining the bill.
Most acclaimed for their second and third records The Sophtware Slump (2000) and Sumday (2003), the Modesto, California quintet split following their to-date final album Just Like the Fambly Cat in 2006. Since they reunited in 2012, however, rumours have become ever more concerted that a fifth album of eagerly-awaited new material is imminent. Also added to our August bill is 28-year-old Texan singer-songwriter and former member of Woods and The Babies Kevin Morby, whose off-beam alternative pop invites comparison in part to The National and Sonic Youth.
Other essential artists appearing with their own headline shows include acclaimed Newcastle folk troubadour Richard Dawson, Warp-signed post-dubstep duo Mount Kimbie with a DJ set, London's eclectic, Mercury-nominated singer and songwriter of soulful pop Eska, and mysterious Chicago alt.blues man Willis Earl Beal.
A distinctly well-chosen roster of local artists with wider international recognition includes Glasgow's dynamic, NME-praised post-punk quintet White, Falkirk pianist and Teenage Fanclub collaborator Bill Wells' mellifluous indie troupe the (misleadingly titled) National Jazz Trio of Scotland, and anthemic Summerhall regulars Broken Records, an Edinburgh group whose superficial resemblance to Arcade Fire belies the fact they've been ploughing their own sound for a decade this year.
There's also vivid and articulate indie-pop songwriting from Withered Hand, while the work of Rachel Sermanni boasts a more grippingly rootsy tone. Soul Foundation offer a live club set of Northern Soul and disco classics with live four-part harmonies and dancing, and the Mediterraneo Festival Edition 2016 brings together a huge, multi-instrumental project combining Italian Pizzica, Zimbabwean jit-jive, afrobeat and Cuban salsa, fronted by The Badwills and Rise Kagona, ex of the Bhundu Boys.
Finally, our selection of late-night club parties offers a refreshingly different take on a festival night out. Dates confirmed include the out-there celebration of German kosmische sounds (with added Italo and disco on the side) Cosmic Disco Nights, in association with Braw Gigs; a cross-genre selection of indie, soul, rock 'n' roll and punk with GrownUps; and the return once more of our popular conceptual art party Rhythm Machine.