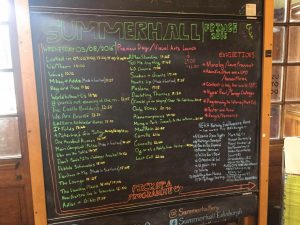 After all of our behind-the-scenes preparation, and days of transforming Summerhall, our crews have downed their tools, put on their new Summerhall uniforms and flung open the doors to a new audience for this year.
While the Fringe doesn't officially start until the 5th, a number of the shows on our Festival programme actually started today, which gave staff and the public the chance to see a mixture of artists revisiting established work and performing new work before everyone else!
Our first show began at 10:00 this morning, and our final show will start at 22:40 tonight. It's been an extremely busy day, but we are so pleased to be able to show off the work that we've programmed for 2016, and we want as many people as possible to come along and see it.
As soon as we opened this morning, people came in to have a look around, see what's on offer, and also book shows, with the assistance of our new FOH Team. Behind the scenes, our crew was still hard at work on our spaces and continuing preparation for the first official day of the Fringe.
So, if you have some free time, before the 5th, pop along and see what we're up to.