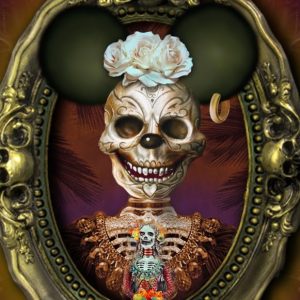 Mischief La-Bas and Summerhall Present
Festival of Death
28 October – 27 November 2016
Opening events and ALL performance programme 28 – 30 October
With an opening weekend over Hallowe'en and Mexico's Day of the Dead, the Festival of Ian Smith: A Celebration of Death (full title) will take place this autumn at Summerhall. Following the Southside arts venue's award-winning 2016 Fringe, this new special festival will celebrate and challenge how we live with death. The festival is supported by Luminate, SMHAFF, The Scottish Partnership for Palliative Care and Final Fling. Funded by Creative Scotland.
The festival will include all strands of Summerhall programming with live music as part of Nothing Ever Happens Here…, visual arts exhibitions and new theatre being shown for the first time at the festival alongside returning work. The event was first held over three days at Glasgow's CCA in 2015 on the anniversary of Ian Smith's death. Ian Smith was co-founder and Artistic Director of Mischief La-Bas and company co-founder Angie Dight explains the very personal significance of the festival:
"My own personal journey with death began in 2014 when, after a severe battle with depression, my husband Ian Smith took his own life. The illness had reduced him to a shadow of his former self; after his death, beginning with the funeral, we were able to restore him in our memories, back to his full glory.
"Our Festival celebrates death, loved ones, art and life in the hope that it will encourage discussion, interaction and challenge any fears we may have about being open about death"
New work in development from performance artist Victoria Melody, Ugly Chief, explores the British funeral industry and tells the story of Victoria planning her father's funeral. For this piece Victoria trained to be a funeral director; explored her fractious relationship with her dad all whilst planning a now unnecessary funeral – the exploration of the subject starting with her father's misdiagnosis with a terminal illness.
Pauline Goldsmiths' resurrects Bright Colours Only a decade after its creation, the world-touring show which recreates an Irish Wake returns for two performances only; F.M.I.N's new work, first conceived at The Arches, Privates, is a one-on-one performance that celebrates the profound impact other people have on our lives. Andrew Tibbles Immortal, also a one-on-one piece, creates an opportunity to say what you'd like to be heard – when you can no longer say it. All of the contributions created during performances of Immortal will feed into a cacophonous echo like art-work which will be exhibited for the rest of the festival.
Exhibitions include a replica of Ian Smith's studio as well as documentation and archival film footage including performance, music and TV work; Glasgow painter Graeme Wilcox will exhibit work including collaborations with Ian and Mischief La-Bas and Good Grief – Part II is a reworking of Ian's Good Grief installation, originally made for the National Review of Live Art with tributes by Angie Dight. Attendees will be invited to leave their own tributes to loved ones passed.
The Visual arts programme also includes photography from Colin Gray's It Takes a Village looking into the amount of support and togetherness required when people's health deteriorates, and Ross Fraser McLean's exploration of the way culture processes death with Mexico's relationship with death and dying as a vibrant and celebratory starting point. CEIBA pairs Ross' photography with installation and sculpture to explore and question the Mexican viewpoint – that death is an equalizer.
Summerhall Programme Manager Verity Leigh:
"Death is something we will all experience but something that society finds difficult to talk about. We're interested in exploring how art and artists might be able to help with that.  The festival brings together the different elements of Summerhall's programmes with an eclectic mix of art, music, performance and installation – all investigating, challenging, confronting or celebrating death."
Festival exhibitions run for a month from the opening weekend 28 October with an opening Day of the Dead Party on Friday 28. Over that weekend Final Fling will open the Death Café and there is also a chance to craft an Ofrenda, a shrine or offering, also derived from Mexican tradition.
The opening weekend 28 – 30 October, features all theatre performances and Nothing Ever Happens Here… presents and opening Day of the Dead party with Our Ladies of Sorrow (Friday 28 October) and performance interventions by Mischief La-Bas.
ENDS
---
For the full programme please head to summerhall.co.uk
Programme updates will be posted on Instagram @summerhallery twitter @summerhalllery fb.com/summerhall
For further information or interview requests please contact Miriam press@summerhall.co.uk
Please contact kat@mischieflabas.co.uk with any programme enquires.
---
Notes to Editors
Mischief La-Bas
Mischief La-Bas is a performance and street theatre company with a mission to gently warp the underlay of the fabric of society. Working across a variety of settings from parks and streets to festivals and the stage, the company embodies a positive attitude of irreverence and generosity in all it undertakes. Work includes walkabout street theatre to large scale promenade pieces and most recently festival curation. Mischief La-Bas is a charity and receives Regular Funding from Creative Scotland.
Luminate
Luminate is an annual festival that takes place across the length and breadth of Scotland each October, offering the chance to celebrate creativity, share stories and to explore what ageing means to all of us.
SMHAFF
Now celebrating its tenth year, the Scottish Mental Health Arts and Film Festival is one of Scotland's most diverse cultural events, covering everything from music, film and visual art to theatre, dance, and literature. The annual festival takes place in venues across Scotland from 10 – 31 October, aiming to support the arts and challenge preconceived ideas about mental health.
The Scottish Partnership for Palliative Care (SPPC)
The Scottish Partnership for Palliative Care is an umbrella and representative organisation which, through a collaborative approach, supports and contributes to the development and strategic direction of palliative care
in Scotland.
Good Life, Good Death, Good Grief
Good Life, Good Death, Good Grief is an alliance of individuals and organisations working to make Scotland a place where people can be open about death, dying and bereavement. Their annual To Absent Friends festival will take place across Scotland from 1 – 7 November 2016. The organisation is a subsidiary of SPPC.