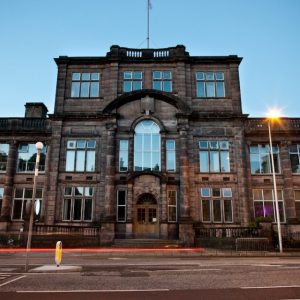 Summerhall, Edinburgh's biggest arts venue and award winning Fringe venue is now recruiting for it's 2017 Fringe team.
Last year we looked after over 150,000 visitors and delivered over 1,700 performances in three and a half short, busy and exciting weeks and 2017 looks to be even bigger.
We are looking for experienced technicians to join our team for the Edinburgh Festival Fringe 2017. Summerhall provides a challenging and exciting environment for a technician, requiring a range of skills and personal qualities and encouraging professional and personal growth.
There are a number of differing but broadly similar roles to be filled, including venue technicians who will be attached to a particular venue space, swing technicians who will cover venue technician's days off and assist with other technical provision onsite, and a chief electrician who will assist with overseeing temporary electrical installation and lighting in all spaces.
Candidate requirements
Several years experience as a professional technician, preferably with a theatrical background.
Good knowledge of theatrical and performance lighting technology, including rigging, patching, focussing and programming generic, led and moving light fixtures.
Competent with setup and use of PA systems for performance and playback.
Strong communication skills
Good working knowledge of health and safety in an events context
Ability to self organise and keep clear records
Excellent problem solving and fault finding skills
Good understanding of health and safety legislation and best practise
Full legal rights to work in the UK, e.g. EU/Uk citizen or relvant working Visa.
In order to apply we require all applicants to be available to work for the full Fringe period, including the build period, have a UK bank account and required visas to work within the UK.
Contract dates are 17th July – 3rd September 2017 OR 24th July – 3rd September 2017 (to be confirmed at contract stage, depending on exact role)
Technicians will be required to work an average of 6 days a week over the contracted period.
To apply please email a CV and cover letter to recruitment@summerhall.co.uk