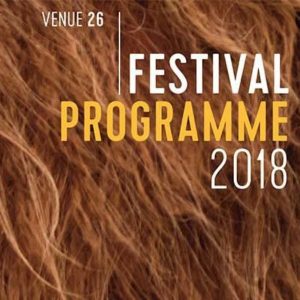 Summerhall, Edinburgh's acclaimed multi-arts venue and Fringe Theatre of the Year nominee at this year's Stage Awards, is proud to announce nearly 120 shows for its seventh year as part of the Edinburgh Fringe Festival, including some of the finest international theatre, music, dance and visual art.
In 2018 we will play host to companies, producers and strands including Paines Plough, Big in Belgium with Richard Jordan Productions and Theatre Royal Plymouth, Hijinx, Start to Finnish, the Actors Touring Company, Sh!t Theatre, Le Gateau Chocolat, China Plate, Canada Hub, Army @ the Fringe, Rose Bruford College, the BBC and the Taiwan Season. Our live music strand Nothing Ever Happens Here and our unique visual art programme also return.
Tetra-Decathlon is directed by double Fringe First-winner Jenna Watt and supported by the Glasgow 2018 European Championships, and VOID, by V/DA & MHz in association with Feral, is an experimental adaptation of JG Ballard's dystopian sci-fi novel Concrete Island. New Zealand playwright Arthur Meek works with Edinburgh's Magnetic North on Erewhon, while Extinguished Things marks the return of Molly Taylor to the Fringe.
Status by Chris Thorpe and Rachel Chavkin reunites the team behind the outstanding Confirmation, Fallen Fruit from award-winning Two Destination Language looks ahead to the 30th anniversary of the fall of the Berlin Wall in 2019, Belle Jones' Closed Doors observes multiculturalism in Glasgow and Tin Can People's young audiences show Katie & Pip introduces onstage a 15-year-old diabetic girl and the dog that has been trained to save her life.
Le Gateau Chocolat's Duckie is a contemporary reimagining of The Ugly Duckling for young audiences, while European Pop Song explores continental identity through music. Sh!t Theatre's Dollywould returns and Séance creators Darkfield are back in their shipping container with Flight. Winners of the first Summerhall/Vaults Festival award, the Flanagan Collective, return to Summerhall with Orpheus.
Canada Hub's programme includes First Snow/Première neige, a National Theatre of Scotland co-production which explores the links between Scotland and Quebec; Roundabout's roster of new writing includes a reworking of Square Go from Kieran Hurley and Gary McNair, and Luke Barnes' acclaimed three-decade study of Britain All We Ever Wanted Was Everything; and Army @ the Fringe features Wired by Lesley Wilson, which tells of post-traumatic stress through a female soldier's eyes, alongside work from Poland and Iceland.
In the 70th year of the NHS, Michael Pinchbeck adapts John Berger and Jean Mohr's 1967 book A Fortunate Man, Gary McNair's After the Cuts imagines a future in which the NHS doesn't exist and patients must take their care into their own hands, and the verbatim Where It Hurts, directed by multiple Fringe First winner Jeremy Weller, tells of the NHS as it is today.
The subject of reproductive rights also recurs. Fishamble's Maz and Bricks is about a young woman on her way to an Irish 'Repeal the 8th' demonstration, aerial theatre company Paper Doll Militia's Egg is about egg donation, and James Rowland's Revelations is about a man who gives his sperm to his female friends so they can have a child.
Nothing Ever Happens Here includes a ten-day residency for Pussy Riot's Riot Days, Maria Alyokhina's live memoir of protest and imprisonment in Putin's Russia, with a DJ set from Kevin Rowland of Dexy's Midnight Runners after the first show. Also appearing are Italian electronic composers Goblin, performing their soundtrack to Dario Argento's Suspiria, Wye Oak, Adam Holmes and the Embers, and the full-album covers project Start to End: Solid Air by John Martyn.
Our visual arts programme features FREE THE PUSSY!, a group show curated by Tamsyn Challenger which documents Pussy Riot's 2012 imprisonment, featuring Yoko Ono, Judy Chicago, Jamie Reid and Billy Childish. John Keane documents images of different types of conflict in Life During Wartime, Martin Green explores the physical dispersal of work from the late Kurt Schwitters' Merz barn in Cumbria, and Mark Cousins has advised on an exclusive exhibition of Orson Welles' drawings and sketches.
For further information, images and interview requests please contact: press@summerhall.co.uk