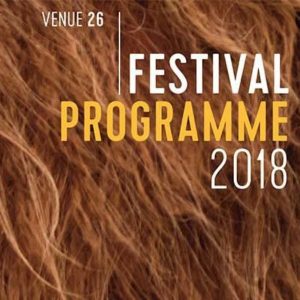 Press Release 26th August 2018
The 2018 Edinburgh Festival Fringe marked Summerhall's 8th year contributing to the programme. The venue continues to draw in diverse talent from across the world, hosting over one hundred shows from 20 different countries – a figure that we are particularly proud of given the current political and economic climate, where the ability to give voice to a wide range of national and international talent is essential to our continued success.
Ticket sales surpasses those of 2017, and after such a bumper year for the Fringe 70th we are so delighted to have sold more tickets to shows in 2018.
Summerhall remains a vital cultural hub and cornerstone of the Festival, with its stellar programme boasting 78 five star reviews, 256 four star reviews, and half of the programme selling out on at least one day. This year, our programme has won an array of awards including seven Scotsman Fringe Firsts, three Herald Angels, and six Total Theatre Awards (a win in each nominated category). Little wonder then that Summerhall has been described by TimeOut as "the current king of the city's arts scene"!  
Lyn Gardner recently wrote that "Edinburgh Fringe 2018 has shown that if you put diversity on stage, audiences will come". Trojan Horse, a production by LUNG Theatre adapted from the real-life testimonies of Muslim teachers and governors accused of plotting extremism in Birmingham schools, has been a particular success. The show sold out on 19 dates and was awarded the Amnesty International Freedom of Expression Award 2018 as well as a Fringe First.
Dancer and choreographer Mele Broomes' production VOID, created with V/DA and M/HZ in association with Feral was also awarded the Total Theatre Award for Dance and almost entirely sold out its two-week run. VOID is an experimental dance and abstract video piece based on JG Ballard's dystopian novel Concrete Island, but in it Broomes has replaced the male protagonist with a black woman – putting her experiences centre-stage.
Nothing Ever Happens Here, Summerhall's year-round live music programme, expanded its line-up for the Fringe in collaboration with One Inch Badge and Synergy to include performances from an eclectic selection of artists. To the delight of cult horror fans, Italian soundtrack maestro Claudio Simonetti and his band Goblin performed the score to the supernatural horror film, Suspiria. Start to End returned with a live band interpretation of John Martyn's 'Solid Air', following their sold out appearance at Celtic Connections 2018. Monthly club night Rhythm Machine, a firm Edinburgh favourite, took over the Dissection Room every Saturday of the festival, combining genre-spanning dance music with live performance art.
A significant highlight of Summerhall's 2018 festival programme was the 10 day residency of Russian punk artist collective Pussy Riot. The collective brought 'Riot Days', the theatre companion-piece to Maria Alyokhina's book, to Summerhall's Dissection Room – a production combining spoken word, music and documentary footage.
The Russian punk group also featured prominently within our visual arts programme in the form of 'Free the Pussy!', an exhibition of works responding to the ground-breaking activism of Pussy Riot, curated by acclaimed artist Tamsyn Challenger. The exhibition featured works by a host of internationally celebrated artists including Yoko Ono, Jamie Reid, Judy Chicago and many others.
Summerhall's acclaimed visual arts programme also included a world-exclusive exhibition of the drawings, sketches and paintings of legendary film maker Orson Welles, advised by documentarian Mark Cousins. In addition we hosted exhibitions of the works of John Keane, Kurt Schwitters, Sura Medura and others.
The programme was recognised in numerous Festival award categories. Total Theatre awarded six of their eight awards to Summerhall shows or artists: Backup and Another One for Physical/Visual Theatre; Pussy Riot: Riot Days for Innovation, Experimentation and Playing with Form; Void for Dance; and Cock, Cock… Who's There? for Emerging Artist. Le Gateau Chocolat (presenting Duckie) was awarded the Significant Contribution Award.
Pussy Riot: Riot Days, Canada Hub and The Troth were awarded Herald Angels.
Status, Square Go, First Snow/Première Neige, Trojan Horse, Valerie, Unsung and Basement Tapes won Scotsman Fringe First Awards.
Revelations won the ThreeWeeks Editors' Award; Stella Reid for The Basement Tapes and Katherine Pearce for Island Town won The Stage Edinburgh Awards for Outstanding Performances; Holden Street Theatres Edinburgh Fringe Award was given to Molly Taylor's Extinguished Things; Woogie Boogie was awarded the Asian Arts Award for Best Comedy, Tetra-Decathlon and European Citizen Popsong were nominated for the Filipa Braganca Award; Daughter was given a commendation by the Sit-Up Award for Audience Engagement; and Trojan Horse won Amnesty International's Freedom of Expression Award.
Looking ahead to 2019, Summerhall intends to develop more initiatives to ensure that its Fringe programmes remain diverse, exciting, risky and surprising.  Since 2014, Summerhall's Autopsy Award has offered a supported slot in the venue's Fringe programme to an artist or company based in Scotland making work which is particularly boundary-pushing and experimental.  This year's winner is Babyface by Katy Dye.  From 2019, the Autopsy Award will include a £4k cash award to the successful artist, thanks to a generous donation from Allan Wilson, a theatre-lover and regular Summerhall attender.
Summerhall is exceptionally proud of its Fair Fringe pledge to fair employment following its landmark agreement with Unite Scotland taking employees off zero-hours contracts; in a similar vein, Summerhall has supported food bank collection for the fourth annual Edinburgh Fringe Food Bank.
As the festival draws to a close, Summerhall's year-round programme will continue. The festival exhibitions will run until September 23rd, and regular shows will begin from September 4th with the Edinburgh Ceilidh Club, and Kathryn Joseph performing on the 14th September as part of the Nothing Ever Happens Here programme. Summerhall's year-round artist development programme continues with applications open shortly for Summerhall Space, which makes space available for artists to develop work, free of charge.
Ends.