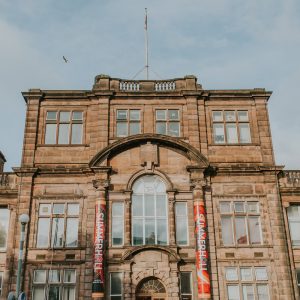 Three more artists/companies will be supported by Summerhall this autumn through its Summerhall Space initiative. Summerhall Space offers artists in-kind space for one week to develop new work.
The artists for the Autumn 2018 programme are:
Skye Reynolds (choreographer and dance artist) – 22-27 Oct, Cairns Lecture Theatre
Kevin Gilday (writer and spoken word artist) – 12-17 Nov, Red Lecture Theatre
Shotput (dance theatre) – 12-17 Nov, Demostration Room
Skye Reynolds
Skye Reynolds is working on a new solo project Alive in collaboration with Director Susan Worsfold (The Gospel According to Jesus Queen of Heaven, Eve). Alive explores the intimate and universal themes of life, death and female identity. It is a piece in two parts: A Dissection and a Performance Lecture on female choreographers, making a lecture theatre space at Summerhall, given its history as the former Royal Dick Vet school, the ideal place to inspire and support the creative development of the new piece.
For more information, click here.
Kevin Gilday
Kevin Gilday is a writer, spoken word artist and theatre maker. He is also the co-curator of spoken word cabaret Sonnet Youth (who will act as producers for the show) and the National Theatre of Scotland's Breakthrough Artist for 2018. He will use the space to begin development of his new show Suffering from Scottishness, a one man spoken word cabaret, deconstructing contemporary Scottish identity. Kevin will collaborate with his Sonnet Youth partner Cat Hepburn and director Drew Taylor-Wilson on the project which will combine spoken word, multimedia and elements of stand up comedy to create a thoughtful but irreverent dissection of the modern Scottish psyche.
For more information, click here.
Shotput
Shotput is a new collaboration between Jim Manganello and Lucy Ireland bringing together their experience in theatre and dance respectively. They will use the week to begin work on a new piece whose language bridges dance and theatre. Inspired by Alfred Hitchcock's film Vertigo, 'Ferguson and Barton' is a noirish piece of dance-theatre that sees two detectives searching for an answer or at least a clue, but always only finding each other.
For more information, click here.
Verity Leigh, Summerhall's Programme Manager, said, "This is the third time we've run Summerhall Space and we were thrilled to get so many fantastic proposals for new work from artists basing their practice in Scotland. It was very hard to narrow it down to 3 projects; there were many more we would have liked to support. The 3 successful proposals represent a diverse range of artists, artforms and ideas and we are looking forward to seeing these new works begin here at Summerhall."