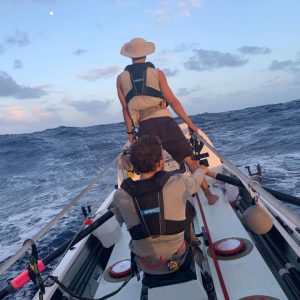 Summerhall is proud to have sponsored Broar in their successful attempt to row the Atlantic, going from La Gomera to Antigua. Broar finished the 3000 mile journey in just 35 days, 9 hours and 9 minutes, earning themselves multiple world records including fastest trio (clearing the previous record by 6 days!). Broar are brothers Ewan, Jamie and Lachlan Maclean.
Broar completed the Talisker Whisky Atlantic Challenge in support of 2 charities:
Feedback Madagascar
Feedback Madagascar works hand in hand with some of the poorest communities in Madagascar to improve their lives and their environment. As the 7th poorest country in the world, people suffer and struggle to survive – let alone conserve nature.
By addressing people's primary needs (health, sanitation, agriculture) Feedback Madagascar allows them to focus on longer-term challenges such as education, legal tenure and livelihoods. In doing so, the charity clears a path to the creation of sustainable livelihoods and better environmental stewardship.
Children 1st
Children 1st is Scotland's National Children's Charity. The charity helps some of Scotland's poorest communities to put children first using practical advice and support in difficult times. Through the charity's local and national services, they provide emotional and practical support to children and families, preventing neglect, abuse and harm and helping families and communities to keep children safe.
They support survivors of abuse, neglect, and other traumatic events, their goal being to help Scotland's communities to play their part in looking-out for and protecting children. The charity is determined to listen to Scotland's children and families and when government or society fails to hear them or respect their rights, they speak out.