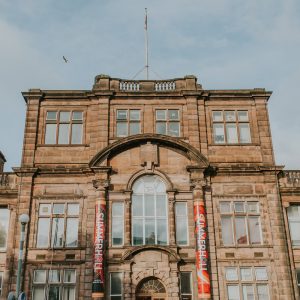 Last updated: 1st April 2020 @ 12:00
At present, Summerhall is only open to:
– Summerhall Security Staff
– Residents
– Deliveries
Summerhall Cafe, The Royal Dick Pub, and all exhibitions are closed until further notice.
Many events due to take place over the coming weeks have been postponed or cancelled. We are doing everything we can to inform customers of any changes to our programme as quickly as possible, and we greatly appreciate your patience during this time.
Further to the Festival Fringe Society's announcement that they have withdrawn their services overseeing the Edinburgh Festival Fringe 2020, Summerhall has made the decision not to present its usual Fringe programme in August 2020. Summerhall has spoken with all companies who were due to participate and will refund their deposit payments in full.
Rowan Campbell, Summerhall's General Manager said, 
"The COVID-19 pandemic and health crisis has already changed the cultural landscape of 2020 drastically and as a leading Fringe venue we have to respond to that challenge.
This has not been an easy decision for myself, or the team in our 10th year – and I would like to thank the brilliant team at Summerhall for their patience, and our audiences and companies for their understanding as we negotiate these unprecedented times"
Verity Leigh, Summerhall's Programme Manager added,
"While we are of course sad that our Fringe programme cannot go ahead, our absolute priority is the safety of our audience, artists and all those involved in the festival.
"2020 was set to be a special year for Summerhall as we celebrated our 10th Fringe programme. That means that in planning 2020 we've already taken some time to look back on the previous 9 years and the many amazing theatre-makers who have shown their work at Summerhall. We are so proud of that legacy, and we look forward to celebrating some of those artists and makers, along with plenty of new voices, as part of our 10th Fringe in 2021."
Please find our full statement on Summerhall Festival 2020 at this link.
We are working hard to develop a new programme of events for the second half of the 2020, with the aim of re-opening our doors in the Summer, and we will be providing regular updates on our website and social media channels moving forwards. As soon as it is safe to do so, we hope that people from Edinburgh and beyond will join us back at Summerhall for a pint, a cuppa and to experience our year-round programmes. 
Our priority at all times is the health and safety of our customers, staff, residents and clients. We would like to thank all our customers and visitors for their patience and understanding during these unprecedented circumstances.
Stay safe everyone. We look forward to welcoming you back when we're all allowed outside again!