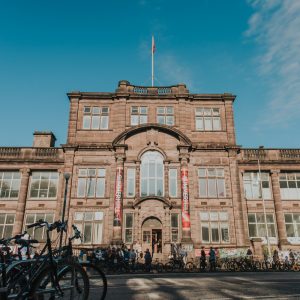 An update from Summerhall's General Manager, Rowan Campbell:
Today marks one year and one day since lockdown began, and I wanted to let you: our supporters, our audiences, our artists and our residents, know where we're at.
I'm writing this from my desk at home. I've just got off our morning team Zoom meeting, and funding applications, postponed plans and scribbled notes are crowded around my laptop.
It's been a long year for everyone and firstly I want to thank everyone who has supported us this year, we likely wouldn't have made it without you all.
A huge thank you to anyone who donated to either of our Crowdfunder campaigns, to anyone who came for a pint while we were open, to anyone who has bought a ticket for a show knowing that it might very well be postponed again.
Thank you to everyone who has liked or shared our social media posts, to everyone who has told their friends about us and spread the word.
To our residents who have continued to support Summerhall throughout this year, thank you! And a big final thank you to our incredible staff team who have been on this rollercoaster with me, many of whom are still on furlough or working from home. They are such a brilliantly resilient bunch and have supported me through all of this too.
So what happened in 2020? 
We closed our doors to the public on Thursday 19th March 2020 and have cancelled or postponed over 1000 events since then.
As Summerhall receives no public funding and relies heavily on earned income, closure placed our survival in doubt.
We furloughed almost all our staff team, retaining 3 members of staff to steer the organisation through the first lockdown.
While closed to the public we remained open to our residents throughout 2020/21, providing a safe working space for a number of artists, charities, small businesses and makers who have been busy over lockdown.
You generously supported our two Crowdfunder campaigns, contributing over £67k of much needed funds to keep Summerhall going throughout the early part of lockdown, and helping create a hardship fund for staff.
Finding normality
As we moved through the ups and downs of 2020, through the levels and tiers, the circuit breakers and lockdowns, there have been pockets of semi-normality in the last 12 months and Summerhall has tried to remain responsive and open to these, while still adhering to the complex regulations and keeping the safety of our staff, residents and visitors our top priority.
The Royal Dick's courtyard bar was open for 10 weeks from July to October 2020. We served 20,000 pints and welcomed almost 10,000 guests to the courtyard to sit in the sun (and very occasionally rain!) at our Covid-safe tables over this period.
We hosted 2 incredible exhibitions: the 8th annual 'Out of Sight Out of Mind' exhibition as part of the Scottish Mental Health Arts Festival and 'Parallel Lives' by artist Angus Reid. We are currently hosting an online exhibition celebrating 10 Years of Summerhall.
We were host to the annual Scottish Album of the Year Award who filmed their online ceremony from our Dissection Room. We have hosted 15 physically distanced rehearsals and filmings.
We hosted two Summerhall Space weeks as part of the latest iteration of our artist development programme, supported by Creative Scotland's Sustaining Creative Development Fund, and are currently hosting a Summerhall Lab week.
What's happening right now, Wednesday 24 March 2021
Summerhall remains closed to the public, only open to our residents and their clients. Our 10 years of Summerhall online exhibition is available to explore here.
All our office-based and maintenance staff are working reduced hours on flexible furlough. All of our FOH, gallery, box office and hospitality staff are on full furlough. The maintenance and technical teams are working in the building, everyone else is working from home.
We continue to make plans to reintroduce live events, music, exhibitions and hospitality as soon as we are able to do so. But with physical distancing, hygiene protocols and restrictions on mass gatherings likely to be in place for some many months to come, we can't say what or when right now!
From 26 April 2021 onwards…
We have been told that Scotland will return to the Levels system on 26 April, with all of Scotland expected to move to Level 3. If this happens as planned, we will slowly reintroduce staff back into working from the building to enable us to start to open up more fully. It is likely that Summerhall staff will continue to work reduced hours on flexible furlough, but 50% of those hours will be from the office and 50% from home.
Click the headings below for more information on our plans heading forwards.
Hospitality

Summerhall will reopen our Courtyard Bar in late April 2021, serving alcoholic and soft drinks, observing all Scottish Government public health restrictions in place at the time. We will also prepare the Royal Dick for a future indoor reopening date, with fingers crossed that we don't have to wait too long! 
Artists and Programming

We await guidance from the Scottish Government about Fringe 2021. If we are able to run a Fringe programme – whether that's live, digital or hybrid – our first priority will be to find slots for all the shows we had programmed for 2020. We are therefore not accepting any new Fringe proposals for 2021.
Artist Development

We will restart our Summerhall Lab and Summerhall Space weeks. We will accept rehearsal bookings.
Exhibitions

We have a number of artists who had their exhibition postponed over the last year and we are working with them to plan the next 12-18 months of these delayed exhibitions, depending on Level restrictions and indicative dates.
Performance and Music

We know that small scale outdoor and indoor events will be permitted from 17th May, with constraints on capacities and distancing. So while we await further guidance from the Scottish Government on how this will apply to live music and performance, Summerhall will be open for rehearsals, filming and streaming.
Events

With the guidance and regulations on events very much dependent on the type of event (the regulations which govern weddings are different to those governing art classes, which in turn differ from those governing meetings or training workshops), we will start to accept bookings where we can do so within the regulations, keeping staff and customer safety at the forefront.
May – July 2021
Across all departments, Summerhall will continue to open up as allowed by the Scottish Government and as long as we can keep everyone safe. We hope that we will be able to keep our Pub and Courtyard Bar open, restart our programme of visual art, continue to host rehearsal and development work in the building, and accept more events bookings.
We'd love to think that live performance might be permitted, but are not currently planning for that. We expect that our staff will still be working reduced hours, partly from the building and partly from home.
August 2021 and the Edinburgh Festival Fringe
Fringe is a huge part of Summerhall's year, providing a platform for hundreds of talented and innovative performers and welcoming thousands of audience members. Right now, we don't know what will be possible in August and await guidance from the Scottish Government about Fringe 2021. We are exploring various programming options: indoor, outdoor, digital and hybrid.
As our first priority is to honour our commitments to the artists we had programmed for Fringe 2020, we are not currently accepting any new proposals for Fringe 2021.
Autumn 2021
We really hope that we will be able to present live music, cinema and theatre, as well as continuing our exhibition programmes, welcoming visitors to our pub and café and generally getting back to normal.
We are tentatively booking gigs, films and CS Touring Fund supported theatre shows for this period.
The New Normal
I hope this gives you all a sense of where we are at and what we have (tentatively!) planned for the coming months. Everyone here at Summerhall is looking forward to welcoming audiences back to gigs, live performance and our glorious Royal Dick pub and courtyard beer garden just as soon as we possibly can.
If you want to support us through these tricky weeks and months before we can establish a 'new normal', you can donate to Summerhall here.
Stay safe and see you soon, 
Rowan Campbell, General Manager