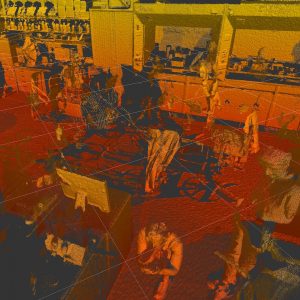 Art, science and technology collide in Syncrasy – Summerhall and ASCUS Art & Science's co-curated Edinburgh Science Festival exhibition. Made up of three exhibitions: We Began As Part of The Body by Beverley Hood; Oscillations by Victoria Evans and E-Numbers V2.0 by Sneha Solanki; Syncrasy invites audiences to experience music made by the tide, smell the food additives that now form such a large part of our diets and get up close and personal with scaled-up models of human skin cells.

Summerhall Exhibitions Manager Kasia Jackowska says:
As a former Veterinary College cum arts venue, we at Summerhall are especially aware of the extraordinary things that can happen when art and science combine. We're always thrilled to take part in the Edinburgh Science Festival, and Syncrasy will give festival-goers a unique opportunity to look at the scientific nitty-gritty from a whole new perspective.
ASCUS Art & Science Managing Director Miriam Walsh says:
With all the changes that have happened as a result of the Covid-19 pandemic, this year's exhibition feels even more relevant to the ways complex scientific language and processes have permeated our day to day lives. With works that capture genetically modified organisms and cutting edge image scanning technology, grown and captured right here in our very own ASCUS Lab, to Edinburgh's coastline in the form of data being brought into the gallery space, we are excited to invite audiences to Summerhall for a series of exhibitions that promise to successfully blur the lines between art and science in novel ways.
Through a sound installation, 3D prints and scientific illustrations Beverley Hood's We Began As Part of the Body tells the story of an artificial skin cell. Inspired by the eczema genetic research laboratory of Professor Sara Brown, We Began As Part of the Body explores medical ethics, leading us through the cell's journey, during its short, precious, three week long 'in-vitro' life from operating theatre to lab, and finally to disposal.
Victoria Evans' Oscillations is an immersive, multi-channel audiovisual work that investigates the way distant or invisible phenomena can have a tangible effect on our day-to-day lives. Over the course of a year, Evans used a process of data sonification (the use of audio to interpret structured information) to translate tidal data into musical notes and make audible the rhythmic, cyclical patterns of the tides and their interplay with lunar and solar orbits. This iteration of the work has been created especially for the exhibition and incorporates the sound of Edinburgh's coastline.
A new and expanding take on the 'E-Number' or 'European Number' food additive system, Sneha Solanki's E-Numbers V2.0 invites audiences into a sensory installation where they can see and smell the genetically altered micro-organisms that are revolutionising the food we eat. Developed to counter or bypass the current rapid change in the climate, the decline of some species or for entirely novel purposes, these microorganisms are new to the world. They have been altered, created or re-programmed in laboratories to produce flavours, aromas, colours, preservatives and nutrition as food additives. Visitors can experience 'aroma boxes' containing the altered micro-organisms that produce fragrances of grapefruit, Valencia orange and banana.
Exhibitions open: 12pm – 5:30 pm daily (during the Science Festival 26 June – 11 July, then 14 July – 12 September days and opening times TBC )
See the full Syncrasy programme, including exhibitions, artist talks and more, at this link.
Image credit: Artist Beverley Hood