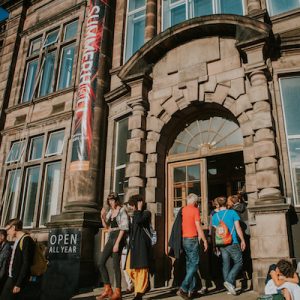 Job Title: Events Manager
Salary: Starting at £23k+, but dependent on experience
Hours per week: 5 days per week, 40 hours in total, some evenings and weekends required
Contract Type: Permanent
Managers: General Manager
Key Relationships: Events Team, Operations Manager, Food and Beverage Manager, Music Programmer, Programme Manager, Programme Coordinator, Facilities & Maintenance Manager, Visual Arts Manager, Marketing Coordinator, Technical Manager, Technical Coordinator, Premises and Lettings Team, Box Office Manager and Finance Manager
Location: Summerhall Management Ltd., 1 Summerhall, Edinburgh EH9 1PL
What is Summerhall?
Summerhall is a vibrant arts and entertainment hub in the centre of Edinburgh, located in the old Royal Dick School of Veterinary Studies by the Meadows. Summerhall now runs a full-time events schedule including, pop-up festivals, weddings and conferences, as well as housing a year round music, theatre and visual arts programme, The Royal Dick bar, Gallery Bar café and 125 commercial tenants all of which are part of the arts or creative industries.
What we are looking for…
Summerhall is looking for an experienced, enthusiastic, collaborative and hardworking Events Manager to oversee the year round program of events throughout the site and focus on generating new revenue streams through sales and business development.
This job is suitable for someone who enjoys high levels of detail and organisation, and who can keep on top of a busy and varied schedule of events across a large site. A keen eye for detail and an ability to build and maintain relationships with the customers, suppliers, colleagues, residents and other stakeholders is crucial to succeeding in this role.
Main Purpose of Role
Development of Summerhall's core business and the procurement of revenue generating events and projects for Summerhall with a focus on successful event execution
Increase Summerhall's brand recognition and client loyalty, by strengthening our core offering to create repeat business throughout the year and maximise space occupancy and booking rates
Management of Commercial Events (Weddings, Conferences, External Meetings), from initial client enquiry to final execution requiring high level operational expertise
To support the Operations Manager to deliver on all operational aspects of Summerhall's year round Music, Theatre and Cinema Programme, alongside other lead departments
To work jointly with the Operations Manager on the implementation, staff training and development of Summerhall's new events software, Priava.
Key Tasks:
YEAR ROUND
Management of Summerhall's year-round commercial events calendar including handling enquiries and sharing responsibility with the other Events Manager for the allocation of tasks and duties required for the successful delivery of events
Develop sales and outreach into new revenue streams for the business (pop-up events, tradeshows, conferences, festivals, community events, classes, workshops, etc.)
Manage event enquiries and coordinate the allocation of tasks within Events Team in an efficient and timely manner
Development and review of all Summerhall's event packages, event hire agreement, pricing structures, and invoice terms, alongside the General Manager
Assist with operational and building management during Summerhall's Fringe Festival if required
Comply with statutory and legal requirements for fire, health and safety, hygiene, and licensing
Key Skills:
Excellent organisational and communication skills
Collaborative personality and ability to work extremely well in a team
Excellent time management skills
Strong negotiation skills
Proficient in Microsoft Office
Social media savvy
Knowledge of using events software (Priava or other)
Knowledge of budgeting, pricing structures for Profit & Loss analysis, as well as using accounting software (Xero, Sage, QuickBooks)
Details:
This role requires the successful candidate to work 40 hrs, usually 5 days per week, 09:00-18:00 daily, however shift patterns may include occasional weekend or evening work depending on scheduled events.
You may be expected to work additional days during busy periods of our events calendar (like Fringe and Hogmanay).
How to Apply:
To apply send your CV and cover letter to recruitment@summerhall.co.uk with the subject line "Application for Events Manager" by 17:00 on Friday 8th October 2021, but interviews may be held sooner for successful candidates that apply earlier.
Immediate start date.
Summerhall's Equal Employment Policy is available to download here. Our Diversity monitoring form is available to complete here – this monitoring form is voluntary but the information we collect helps us to make sure that we are an actively inclusive organisation, and to work out what steps we need to take to do better.