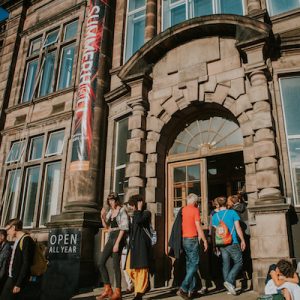 Job Title: General Manager
Salary: £35 – 40K, depending on experience
Hours per week: 5 days per week, 40 hours in total, some evenings and weekends required
Contract Type: Fixed Term Contract for 1 year with the possibility of extension/permanent contract after 1 year.
Key Relationships: Summerhall Directors, Events & Operations Managers, Food and Beverage Manager, Music Programmer, Programme Manager & Coordinator, Facilities & Maintenance Manager, Visual Arts Manager, Marketing Coordinator, Technical Manager, Technical Coordinator, Premises and Lettings Team, Box Office Manager and Finance & HR Manager
Location: Summerhall Management Ltd, 1 Summerhall, Edinburgh EH9 1PL
What is Summerhall?
Summerhall is a vibrant arts and entertainment hub in the centre of Edinburgh. Our values are driven by openness, diversity, accessibility, equality, and innovation.
Summerhall hosts all kinds of events, parties, workshops, exhibitions, festivals, weddings, and meetings. It is home to a diverse community of creative artists, start-up businesses, arts and third sector organisations and social enterprises.
As well as our year-round programme of performances, gigs, and events, Summerhall operates two vibrant hospitality spaces: The Royal Dick pub and The Gallery Bar.
Summerhall runs a year-round artist development programme and presents a multi-award-winning programme of work as part of the Edinburgh Festival Fringe. Our last full Fringe programme in 2019 hosted over 140 companies, delivering well over 2000 performances and welcoming 250,000 visitors.
Pre-Covid, Summerhall's revenue was around £4 million per annum with a very busy calendar of over 1000 events per year.
Summerhall is currently reviewing its governance with the intention to secure its future and further support and develop the arts in Scotland.
What we are looking for…
Summerhall is looking for an experienced, enthusiastic, collaborative, and creative person to lead our committed and enthusiastic staff team. This is a unique opportunity to take on the challenging and exciting role of General Manager at Summerhall.
In this first instance this position is offered for the period of one year to cover a leave of absence but may be extended.
The two key aims of this role are to develop the business, and to ensure the smooth running of Summerhall across all operational teams. This role sees a multitude of challenges and responsibilities across the business and the successful candidate will be someone open minded and flexible, who can think and act creatively and inventively to overcome and solve challenges.
Key responsibilities
Finance
Management of and responsibility for operational income and expenditure
Reporting results back to the Directors
Responsible for the Fringe budget and overseeing the financial settlement
Management
Direct management of:
Food & Beverage Manager
Operations and Event Managers
Finance & HR Manager
Box Office Manager and Marketing Coordinator
Production Manager
Joint management
Maintenance and Facilities Manager
Assistant Maintenance Manager
Programme Coordinator
Technical Coordinator
Liaison with contractors
Storytelling PR (Press Team)
Programme Manager
Member of the Senior Management Team taking the lead on weekly meetings with the Directors
Involvement in recruitment of staff, across all teams
Operations and Policy
Responsible for managing the business mix to generate earned income while maintaining Summerhall's commitment to support and showcase artists
Working with the Event and Operations Managers and the wider Operations team to create, grow and develop the calendar of annual events
Working with the Music Programme Manager to ensure the successful delivery of 'Nothing Ever Happens Here…' Summerhall's live music programme
Working with the Performance Programme Manager to ensure the successful delivery of our Festival Fringe programme
Lead on Health & Safety, ensuring the business is safe and up to date with legislation
Company Data Controller and responsible for GDPR compliance
Responsible for the creation, review and updates on all policies, procedures and risk assessments for the business
Responsible for the negotiation, review and management of contracts and the relationships with suppliers and contractors
Responsible for maintaining and delivering excellent levels of customer service across the public facing teams
Maintaining relationships with residents and the Lettings team
Who we are looking for…
The successful candidate will have a broad range of practical and analytical skills and experience including:
Operations / Events
Event creation, production, management, and delivery – essential
Knowledge of the arts in Scotland – essential
Negotiating and managing contracts and contractors – essential
Health & Safety management – desirable
Customer service management – desirable
Fringe Festival Experience – desirable
Food & Beverage and / or bar & catering management & personal license holder – desirable
Finance
Finance and budget management – essential
Fundraising and organisational governance – desirable
Handling multiple revenue streams and budgets – essential
HR
Leading and building a team – essential
Disciplinary procedures and appraisal planning and management – essential
Creating, reviewing, and updating policies – desirable
Recruitment – desirable
Interested?
The role is offered at £35-40K per annum, depending on experience, with 28 days of annual leave and the potential for flexible working.
If you have any questions about the role or would like an informal conversation, please email rowan@summerhall.co.uk
Application Process
Please submit a CV with a covering letter of no more than two pages outlining your experience and suitability for the role, salary expectations and current notice period, to rowan@summerhall.co.uk
The closing date for applications is 5pm on Wednesday 3rd November 2021.
The selection process will be via a two-stage interview. First round interviews will be held in early November. We would like the successful candidate to start in December 2021 or early January 2022.
Summerhall's Equal Employment Policy is available to download here. Our Diversity monitoring form is available to complete here – this monitoring form is voluntary but the information we collect helps us to make sure that we are an actively inclusive organisation, and to work out what steps we need to take to do better.