ANATOMY #15: PICNIC AT THE PLAGUE POOL
ANATOMY #15: PICNIC AT THE PLAGUE POOL
ANATOMY
20:00 - 23:00
(3h)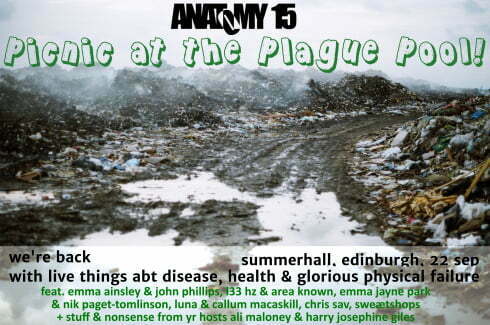 Nudity, Adult Themes
_ Price: £7
_ Age Group: 14+
_ Venue: Anatomy Lecture Theatre
Come frolic with us on the shores of disease. Pack up your tablets, serums and therapies for a picnic by the edge of the bubbling plague pool. Bathe in the anthropocidal fungal wash. Be baptised in pestilence. Hold hands in a dance of decay while monkey grinders dribble lopsided shanties from their rusting crank organs. Take a walk down the promenade through pollution and rot. And be certain not to miss the Punch & Judy show, performed by marionettes carved from the Professor's very own bone and tissue, dangling in a cavity in his chest. Bring a towel.
ANATOMY is a quarterly live art cabaret based featuring astonishing work in dance, sound, costume, movement, spoken word, film and more from across the UK.
WITH Emma Ainsley & John Phillips, Nusch Bourne & Serafima Mehovich, L33 Hz & Area Known, Emma Jayne Park & Nik Paget-Tomlinson, Luna & Callum Macaskill, Chris Sav, and sweætshops.
PLUS slime and silliness from your congenial congenital hosts, Ali Maloney and Harry Josephine Giles.
AND British Sign Language interpretation throughout from Yvonne Waddell.