Anatomy #20: Mollycoddler
Anatomy #20: Mollycoddler
Anatomy Arts
20:00 - 23:00
(3h)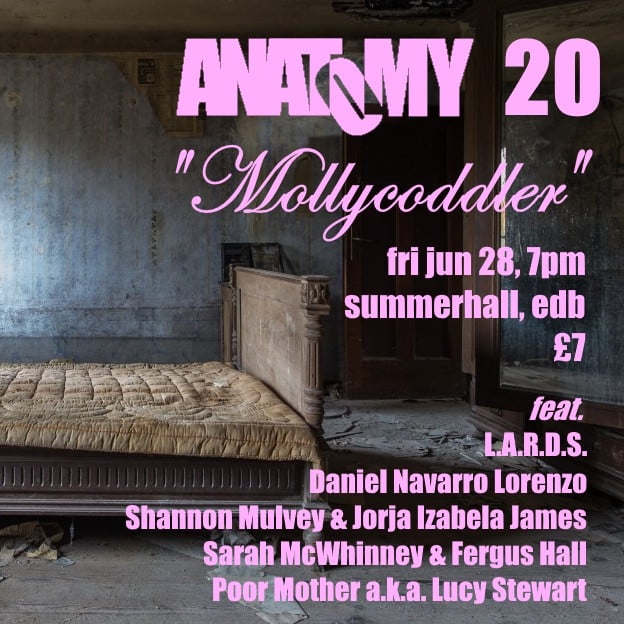 Unreserved seating. BSL interpreted performance.
_ Price: £7
_ Age Group: 18+
_ Venue: Anatomy Lecture Theatre
The Mollycoddler descends to consume you. All red velvet drapery and sequences of shattered wrists, the Mollycoddler swaddles you in frilly padding and pockmarks the skin with peepholes. Peek into the flesh of your comrades and compatriots. Marvel at the finery wrapping their innards and outards. The Mollycoddler comes to those bound to ornate oak posts and whose skin is a palimpsest of lipstick sigils. Hands extend from its gnashing and prancing clockwork, running fingers that smell like formaldehyde through your hair. Its jukebox voice scratches out pre-recorded oohs and aahs as it fusses over you, pruning your being into product: perfectly preserved mollie sapiens."
ANATOMY is a quarterly live art cabaret based in Edinburgh's Summerhall, featuring astonishing work in dance, performance art, burlesque, clownery, music, physical theatre and more.
WITH L.A.R.D.S., Daniel Navarro Lorenzo, Shannon Mulvey & Jorja Izabela James, Sarah McWhinney & Fergus Hall, and Poor Mother a.k.a. Lucy Stewart.
AND full integrated British Sign Language interpretation throughout.
PLUS multifariousness and mellifluence from your anatomical hosts, Ali Maloney and Harry Josephine Giles