Auricle Ensemble: Rewrite
Auricle Ensemble: Rewrite
Auricle Ensemble
20:00 - 21:45
(1h45m)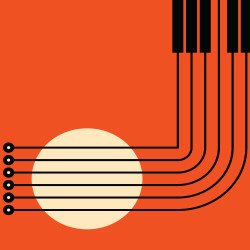 Unreserved seating. Please contact venue with any access requirements.
_ Price: £14
_ Age Group: 16+ (under 18s accompanied)
_ Venue: The Dissection Room
The Auricle Ensemble perform Steve Reich's Radiohead inspired work 'Radio Rewrite', alongside classical works composed by Jonny Greenwood (Radiohead), Stewart Copeland (The Police), Richard Reed Parry (Arcade Fire) and Bryce Dessner (The National).
A new commission from Sarah Hayes (You Tell Me, Admiral Fallow) completes the line-up conducted by Chris Swaffer.
Jonny Greenwood (Radiohead)
3 Miniatures from 'Water' UK Premiere
'88′ for solo piano (Piano – Laura McIntosh)
Stewart Copeland (The Police)
Celeste UK Premiere
Sarah Hayes (You Tell Me / Admiral Fallow)
World Premiere and Commission
Bryce Dessner (The National)
Letter 27
Richard Reed Parry (Arcade Fire)
Quartet for Heart and Breath
Memorial
Steve Reich
Electric Counterpoint, mvt III, for Electric Guitar (Guitar – Adele Neilson)
Radio Rewrite (after Radiohead)
Artistic Director Chris Swaffer on Auricle's 'Re-Write':
"Our project features work for classical chamber ensemble but by musicians from the worlds of rock and folk, allowing audiences to discover new facets of an artist via a totally different genre. Alongside established and published names like Jonny Greenwood and Steve Reich, we felt it important to commission and promote a new voice and we are delighted to be collaborating with Sarah Hayes. She is an extraordinarily versatile musician and her enthusiasm for cross-genre projects make her a perfect fit for Auricle."