Burns Supper
Trotting Fox Events
18:00 - 22:00
(4 hours)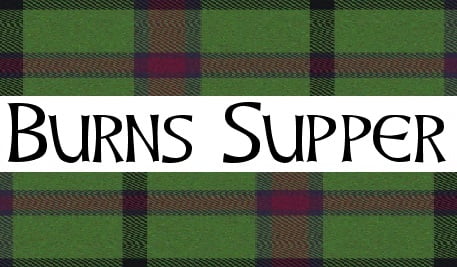 _ Price: £20
/ £18
_ Age Group: PG
_ Venue: Main Hall
Celebrate the life and works of Rabbie Burns with bagpipes, recitals and a traditional serving of haggis, neeps and tatties for supper!
Summerhall welcomes you to the sound of bagpipes, where your master of ceremonies delivers a bite sized history of the Bard, followed by recitals of some of his well renowned poems and songs. There's even the opportunity to participate in a recital yourself, should you wish.
Guests will be served steaming dishes of haggis, neeps and tatties, followed by a nip of whisky to toast Rabbie Burns. The Auld Alliance (Ceilidh Me Softly) Ceilidh Band will round off the celebration with a lively ceilidh, suited to all abilities of dancers.
Trotting Fox Events (Facebook/Twitter) will be in touch within 48 hours regarding dietary requirements and seating arrangements – please provide your email address to make this possible.
If you would like to participate in reciting a Burns poem or song at the event, please contact the organiser to arrange this before the event – trottingfoxevents@gmail.com or 0780 400 6656.