Christmas Tarantella Ceilidh
Christmas Tarantella Ceilidh
The Badwills
20:00 - 01:00
(5 hrs)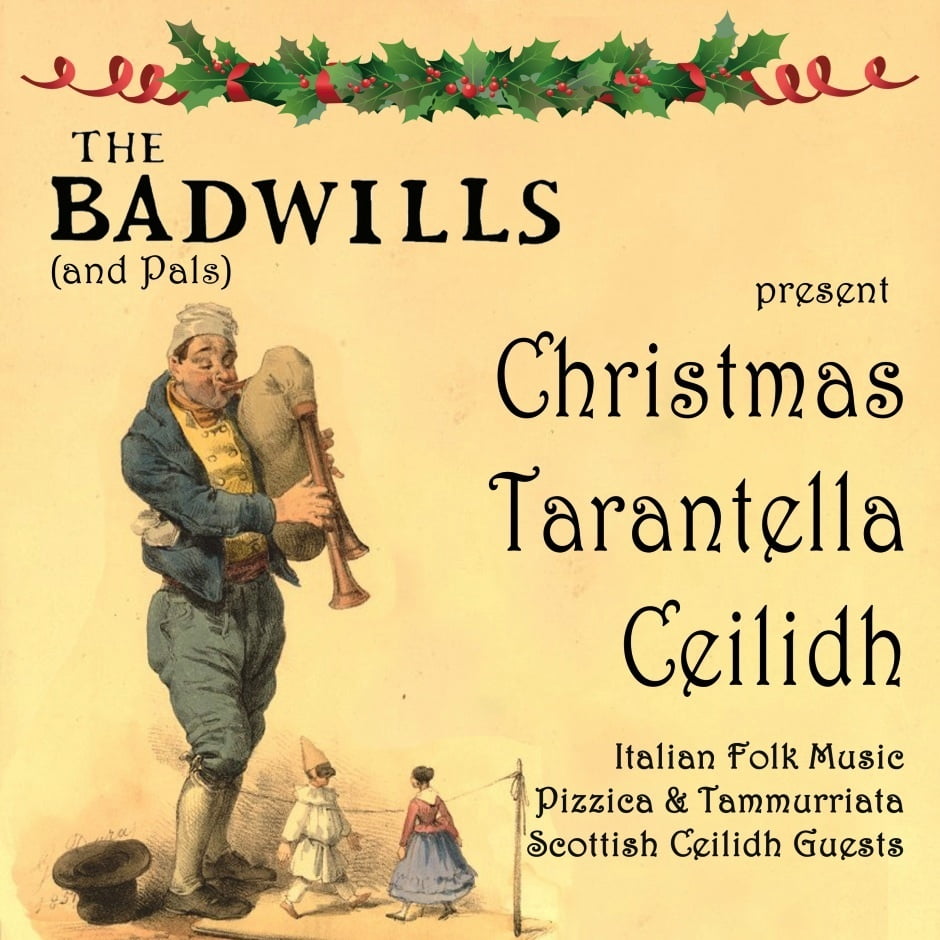 _ Price: £8
/ £6
_ Venue: Main Hall
The Badwills are back with their annual Christmas party and this time they are going to do it Ceilidh style! Come dance the night away to the hypnotic rythms of Pizzica, Tarantella & Tammurriata from Southern Italy, and also for a few well-loved Scottish Ceilidh dances with our special guest musicians.
At 8.30 there will be a beginners crash course in Pizzica and Tammurriata dances to get you ready, or you can just bring your own moves and join in the stomping and bouncing throughout the night.
The Badwills are an Edinburgh-based Italian musical collective, performing a mix of Tarantella, Pizzica, Tammurriata and Italian folk music, opening a window on the lights and shadows of Italy. They have been performing to audiences around Scotland and Europe since 2010, including sold out Edinburgh Fringe and TradFest shows and headlining the hugely successful Mediterraneo concert series at Summerhall from 2012-2014.
Through song, dance and stories, the Badwills lure audiences through the alleyways of Genoa and Napoli and the piazza of Sicily and Puglia, giving voice to the languages and traditions of each region. The faces of sailors covered in salt, of peasants shouting out their anger, of girls that dance out their madness, of Bocca di Rosa, the lady who loved love to the point of making love to everybody. The smells of wine, of the earth burnt by the sun, the smell of sea salt. The sounds of a thousand tongues: of Genoese fishermen, Neapolitan revolutionaries, Occitan pirates and Sicilian lovers.
You can follow The Badwills on Facebook