City Link Symposium
City Link Festival
Starting at Summerhall 9am (8.30am registration) until 4pm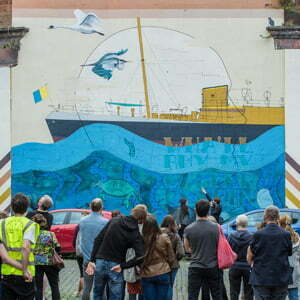 _ Price: £10.00
_ Venue: The Dissection Room
The City Link Symposium 2015 is a celebration of cities and the people and activity that shape them. We have brought together speakers who in different ways have studied, considered, altered or impacted the urban environment.
PLEASE NOTE: Our day-long symposium programme includes a morning programme of talks at Summerhall from 9am-12noon, plus one afternoon activity of your choice from 2-4pm. When booking your ticket, please select one of the four workshops below.
MORNING PROGRAMME, Summerhall 9am – 12noon
Join us at Summerhall for a morning of talks where we'll explore ideas about cities and how they can develop in fairer and more democratic ways.
Morning Talks

Christoph Lindner (NL) – will present Retro-Walking New York: Slow Urbanism which uses New York City's High Line elevated park as a case study to explore how slowness – as both an aesthetic experience and a spatial practice – is increasingly being used to enable the neoliberal development of the global city.
Signe Brink Pedersen (DK) – will bring her experiences of curating Dream City at Roskilde Festival to Edinburgh. Signe will present how temporary art and architecture might be used to catalyse development with playful approaches in urban contexts.
Kristoffer Kamp Theisen (DK) – discusses an alternative role for the municipal player in area renewal projects. He will share strategies from his work in Copenhagen on increasing opportunities for both voluntary actors to create urban bottom-up urban development and the municipality to influence the quality of expression and content.
Faith Liddell and Janine Matheson (UK) – co-present a discussion about Edinburgh that explores how we create a culturally successful city. Both women were instrumental in the production of Desire Lines, a call to action for creators, producers, spectators and participants in the city's cultural life to join a dynamic city-wide conversation.
Jason Roberts (USA) – will be presenting City Hacktivism – The practice of altering urban environments in ways that aren't officially sanctioned. A founding member of Better Block – Jason's team identified the barriers to revitalization, established a vision for what they wanted their neighborhood to become, starting with just a single urban block.
AFTERNOON PROGRAMME, Various Locations 2 – 4pm
Following the morning talks at Summerhall, join one of our four workshops at different locations in the city:
Afternoon Activities:
Urban Hactivism Workshop
Fountainbridge 2-5pm
In the West of the city, on an old brewery site by the Union Canal, Jason Roberts and Akiko Kobayashi to put some themes of urban citizenship into action. This quick-fire hack workshop is a chance for you to contribute ideas and action to help Fountainbridge Canalside Initiative design and start to implement the next phase of their work towards a more inclusive, sustainable and grassroots-led neighborhood.
Ticket for Morning talks + Urban Hactivism workshop:
https://sh.tickets.red61.com/performances.php?eventId=26:1268
LeithLate Mural Tour
Leith 2-4pm
LeithLate will lead a Mural Tour, taking in some of Leith's murals (both old and new). Tours will start at the iconic Leith mural painted by Tim Chalk and Paul Grime in the 1980s and finish at The Leith Aquatic mural produced by Blameless on Halmyre Street. The tour will conclude with an exhibition of Danish street art by Classic Copenhagen photographer Sandra Hoj at the Out Of The Blue Drill Hall where tea and Tunnocks Teacakes will be served in the new gallery space.
Ticket for Morning talks + LeithLate Mural Tour:
https://sh.tickets.red61.com/performances.php?eventId=26:1269
Time Of The City – Workshop
Old Town 2-4pm
In the heart of the city's medieval Old Town, meet up at CodeBase – the largest technology incubator in the UK. There, Chris Speed and Larissa Pschetz from Edinburgh College of Art's Design Informatics department will lead a workshop where you will go out in the city to identify and collect data that describe the multiple rhythms that contribute to shape the urban environment. This data will be combined in a collective installation in the form of a digital map.
Ticket to Morning talks + Time and the City Workshop:
https://sh.tickets.red61.com/performances.php?eventId=26:1270
Right to the City Network – Seminar
Southside 2-4pm
This seminar is for those interested in urban activism and politics from a grassroots level and will give examples of successful processes and campaigns. Till Haupt will present the initiative "Komm In die Gänge" (aka Gängeviertel) fighting for the last part of the city of Hamburg's Gängeviertel district where squatters, residents, artists and activists have been negotiating with the city of Hamburg since 2009 to decide on the area's future.
Ticket to Morning talks + Right to the City Seminar:
https://sh.tickets.red61.com/performances.php?eventId=26:1271
For further information on speaker profiles, workshop descriptions and for more information visit www.city-link.org/event/city-link-symposium-2015-democratic-renewal/
PLEASE NOTE:
About City Link
City Link connects cultural communities across Europe to meet and share ideas on how we can make fairer and more democratic cities – knowledge sharing on the international fluxes of democratic urban development. Each year City Link connects two new cities together, and celebrates this connection in a festival. Through the City Link initiative, we aim to promote international collaboration and connect cultural communities beyond the institutional frameworks, enabling anyone to exchange ideas, collaborate and inform how their city could develop in a fair and democratic way.
In 2015 City Link welcomes Edinburgh as the host city of the City Link Festival connecting the cultural and artistic communities from Edinburgh in the network. The network includes Copenhagen (initiator: GivRum), Hamburg (host city 2014), and Istanbul, which will be the host city in 2016.