Lost in the City: Chain & London
Lost in the City: Chain & London
19.30, 21.30
(99mins, 85mins )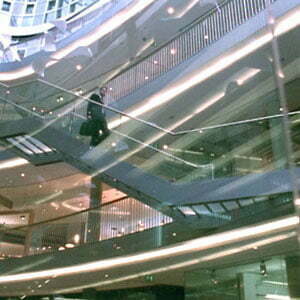 _ Price: Ticket Price: £7.00 double bill, £5.00 single bill
/ Concessions: £6.00 double bill, £4.00 single bill
_ Age Group: PG
_ Venue: Red Lecture Theatre
A journey into the modern day city, a place of alienation and disharmony, awkwardly navigated by its inhabitants.
Chain (2004) is New York experimental filmmaker Jem Cohen's cinematic expedition into the impersonal global city, where the sense of the local has all but evaporated. A thought-provoking and often beautiful portrait of contemporary life which blends fiction and documentary, with a soundtrack by Godspeed You! Black Emperor.
In London (1994), Patrick Keiller's searing critique of early nineties Britain, we meet Robinson, an unseen 'researcher' attempting to understand the malaise he finds permeating the capital. Filled with cutting political insight, sly humour and literary anecdotes, it's one of the most distinctive British films of recent times.
A double bill about the strange entity that is the contemporary city.