Food and Environment Candidate Cafe
Food and Environment Candidate Cafe
RSPB Scotland
19:00 - 21:00
(2 hours)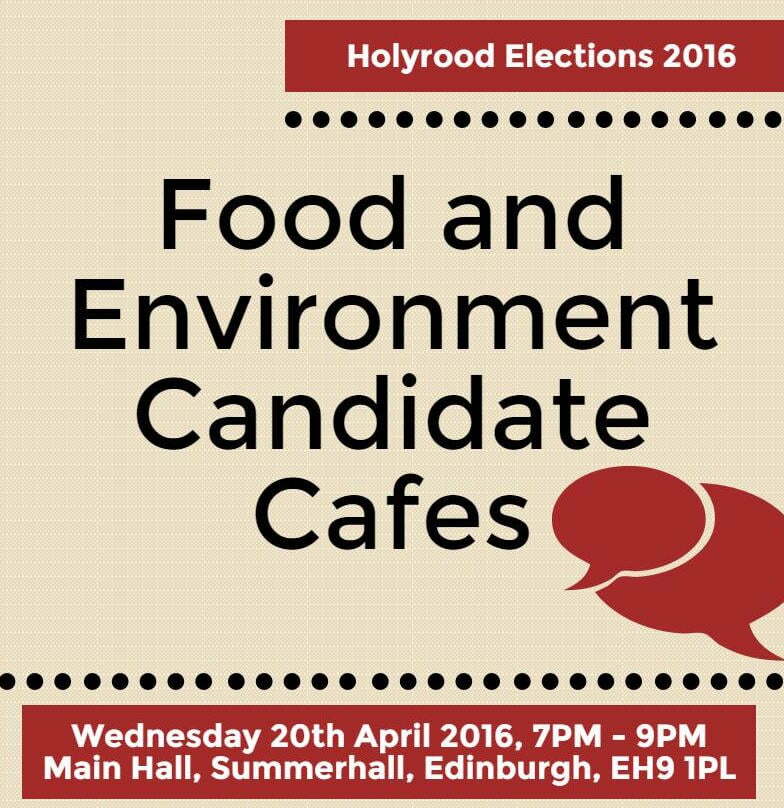 _ Price: Free, ticketed (admits 1 child + parent).
_ Age Group: U
_ Venue: Main Hall
The Scottish Parliametary election in May 2016 are a chance to find out what political parties will do to improve the Scotland we all live in and how they will do it. Therefore what could be closer to home than the food we grow and eat and our natural and built environment?
This is your chance to ask your questions to Holyrood candidates in an informal surrounding hosted by Nourish Scotland and the Royal Society for the Protection of Birds (RSPB) Scotland.
We have invited all the parties currently represented at Holyrood to send a speaker – who must be a candidate for any Edinburgh/Lothians seat or for the Lothian List.
Speakers confirmed so far are:
Sarah Boyack MSP – Scottish Labour Party – candidate for Edinburgh Central and Lothian List
Scottish Conservative and Unionist Party – speaker to be confirmed
Scottish Green Party – speaker to be confirmed
Scottish Liberal Democrats – speaker to be confirmed
Scottish National Party – speaker to be confirmed
Candidates will be introduced by a chair and invited to give short talks from the platform followed by the candidate cafe format where candidates will rotate amongst tables at timed intervals, encouraging more informal but direct conversations between members of the public and candidates. The political candidates will not be debating their respective policy position with each other.
The May 2016 elections will be the first in which our 16 and 17 years olds will the opportunity to participate in Parliamentary elections and to celebrate this and explain why food and the environment are important to young people, we're delighted to have a Member of the Scottish Youth Parliament attend and give a few words alongside the candidates. The Scottish Youth Parliament is a non-party-political organisation.
Nourish Scotland and RSPB Scotland are non-party-political organisations. By registering to attend this event, participants agree to act with respect towards all candidates and fellow members of the public.
This venue is accessible but please let us know if you need additional requirements.
Tea and coffee will be provided, and there will be a stall where you can find out more information on the work that Nourish Scotland and RSPB Scotland do all year around.