Summerhall Festival Club
A night of spoken word and musical marvels!
22.00
(til late)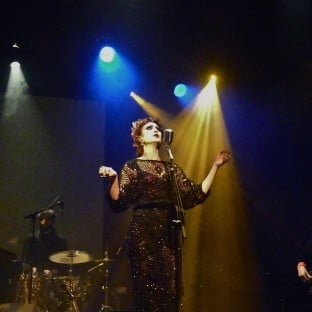 _ Price: Free, unticketed
_ Venue: The Dissection Room
Inky Fingers presents…a night of spoken word and musical marvels!
As part of their 2012 Minifest, Inky Fingers brings a showcase of the best in UK spoken word to the Festival Club. With top poets and performers alongside fantastic musical acts, it's a night of words and wonders.
FEATURING
TRAMP
A Dadaist music show combining a series of songs, stories and awkward choreographies. Exploring an odd mix of everyday situations such as playing in the park, youth suicide, friendship and animal love, TRAMP is concurrently an adventure of the fragile, raw, beautiful and ironic.
TEMPER TEMPER – THE PAIN OF DESIRE
Temper Temper's original epic sound fuses muscular jazz and glittering blues with a richly textured visual landscape, led by Wendy Bevan's hauntingly beautiful voice. Her otherworldly performance as a statuesque, ghostly femme fatale echoes the Pain of Desire.
WHAT'S HE BUILDING IN THERE?
A wonderfully absurd, dark-comedy about a carpenter who is having an affair… with a chair. This Lynchian nightmare is accompanied by a live, original score.
www.whats-he-building-in-there.com
TELFER & TREEBY
Dickson Telfer is a Scots storyteller and chocolate addict; William Treeby a musician and visual artist — together they present a medley of short stories – light-hearted; bittersweet; surreal; served on a bed of music.
www.dicksontelfer.wordpress.com
MATT MACDONALD
has been pouring his heart and dictionary out across Central Scotland and the North East for two years now, honing his skill at writing emotive and allegorical poetry.
lastmanstanzaing.wordpress.com
NICK FIELD
Performing artist, writer and poet. HIs work fuses theatre with a poetic twist to create evocative, bittersweet and richly lyrical performances. Warm and funny, but sharply incisive, he has taken his work to major events, venues and festivals internationally including Soho Theatre, The Royal Festival Hall, Greenman Festival and Kulturhussett, Stockholm.
For full Minifest listings, see inkyfingersedinburgh.wordpress.com