Summerhall Festival Club
A night of spoken word and musical marvels!
22.00
(til late)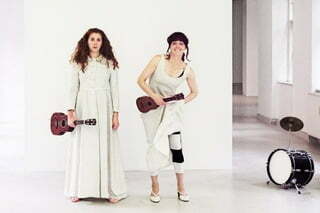 _ Price: Free, unticketed
_ Venue: The Dissection Room
Inky Fingers presents…a night of spoken word and musical marvels!
As part of their 2012 Minifest, Inky Fingers brings a showcase of the best in UK spoken word to the Festival Club. With top poets and performers alongside fantastic musical acts, it's a night of words and wonders.
FEATURING
TRAMP
A Dadaist music show combining a series of songs, stories and awkward choreographies. Exploring an odd mix of everyday situations such as playing in the park, youth suicide, friendship and animal love, TRAMP is concurrently an adventure of the fragile, raw, beautiful and ironic.
WHAT'S HE BUILDING IN THERE?
A wonderfully absurd, dark-comedy about a carpenter who is having an affair… with a chair. This Lynchian nightmare is accompanied by a live, original score.
www.whats-he-building-in-there.com
COLIN MCGUIRE
A thin 29 year old Glaswegian man, touch giddy in the head, sometimes poet of mangled form and dirty prose, sporadic drummer, drunk grammarian, waffler, painter using crayons, lover, hater, learner, teacher, pedestrian, provocateur, wanderer, confronter of shadows, detective of private trauma, irritating whine. First collection, Riddled With Errors, out now; second due for release in 2013 by Red Squirrel Press.
LYNSEY CALDERWOOD
Scottish memoirist, poet, and fiction writer. She graduated with distinction from Glasgow University's Creative Writing MPhil in 2004, two years after the publication of her autobiography, 'Cracked'. It has taken her a decade, but she has finally completed her first novel. She is now co-writing a screen play.
SEAN BURN
Writer, performer and artist. Actively involved nationally in disability arts, he was shortlisted for a dadafest disability arts award 2009. His plays are performed widely, his thirty poetry films have received many screenings worldwide, as well as at Tate Modern and National Film Theatre Studio, and he has had three spoken word CDs released, most recently "speaksong" with Gareth Mitchell.
Plus music from CHRISTOS FANARAS
For full Minifest listings, see inkyfingersedinburgh.wordpress.com