Mediterraneo: Carnevale 2019! with The Badwills, Swampfog + Bristol Branch
20:30-01:00
(4h30m)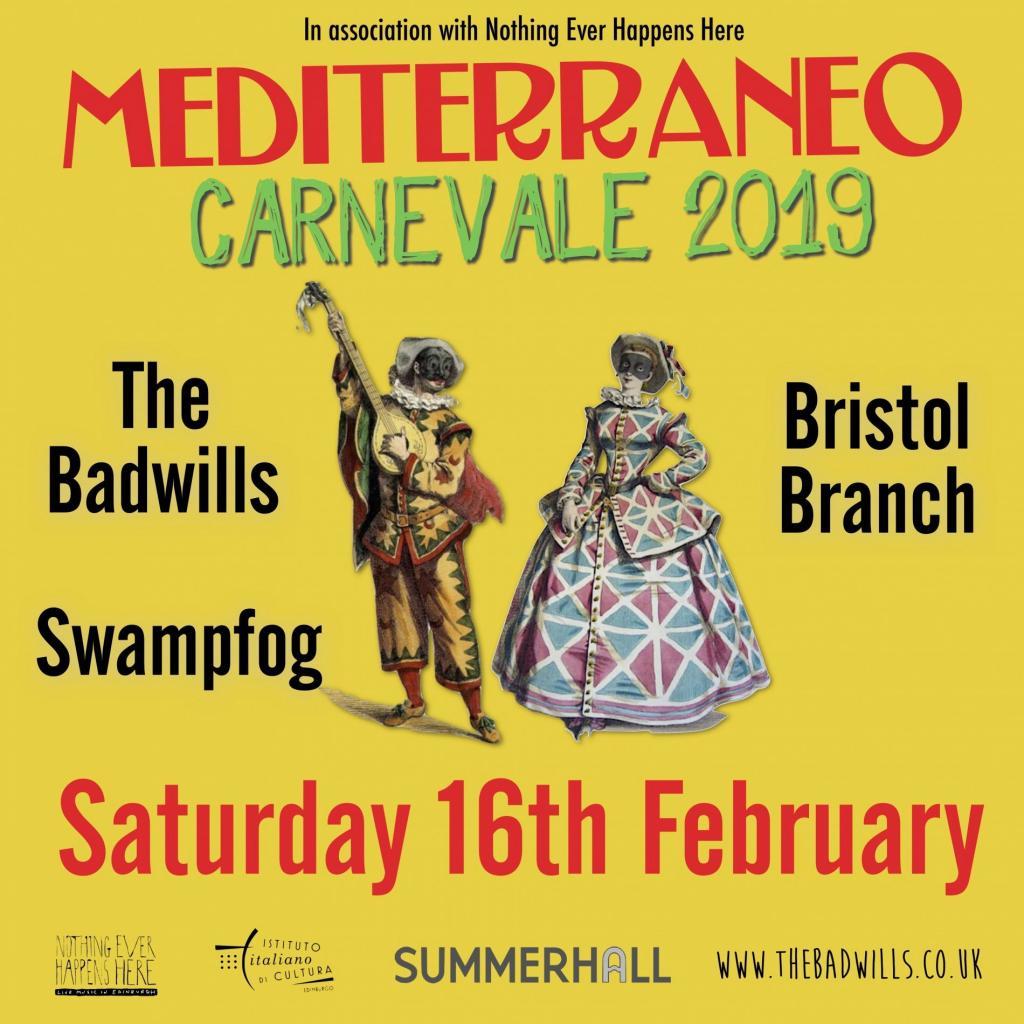 Standing Only. 27 stairs to venue
_ Price: £12 (includes mask) / £10 (with own mask)
_ Age Group: 18+
_ Venue: The Dissection Room
Mediterraneo and Nothing Ever Happens Here present Carnevale 2019! A wild night of Italian Pizzica, New Orleans Brass, Brazilian Forró, and masks… lots of masks!
It's that time of the year when the world is upside-down. When Harlequin the Servant is master for the day. When the Fool is wise, the King is poor, and Music rules them all.
After sell out editions since 2013, Mediterraneo is back with its annual Carnevale concert, and this year it'll be bigger than ever, with three huge bands in the mighty Swampfog, The Badwills and Bristol Branch taking the stage… over 20 musicians to bring Italian, Brazilian and New Orleans Carneval fever to town like never before.
Swampfog
This years line up includes Swampfog, bringing horn-heavy funk from the swamps of New Orleans via Scotland, packed with some of the country's top brass and funk musicians, they have been packing festivals and venues, and funking up TV and Radio for the last few years. Big and brassy and perfect to get you and your mask moving.
Bristol Branch
Alongside them, will be the mighty Bristol Branch. A hugely talented collective unleashing Brazil forró music, with splashes of baião, samba and Cajun music all rolled in. Bringing a big taste of northeastern Brazil's carnival culture complete with all the fiddles, accordións, cavaco, zabumba and pandeiros we can fit on stage.
The Badwills
And finishing off the line up, and keeping the fire in your dancing feet burning, will be Mediterraneo's hosts, and Summerhall and music festival favorites The Badwills, bringing their wild tambourine fueled Pizzica, Tarantella and Tammurriata straight from the South of Italy, right through the sound system to the tip of your dancing mask.
Come, and tell your friends, shine your dancing shoes, and don't forget to wear your best mask (or costume!)