More Than One Language: What Parents and Teachers Need to Know
More Than One Language: What Parents and Teachers Need to Know
Bilingualism Matters
13:30 - 14:30
(1h)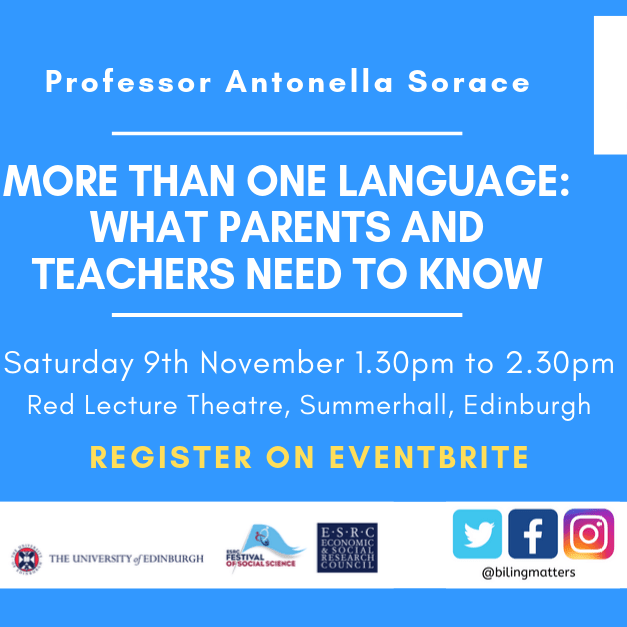 _ Price: Free (ticketed)
_ Age Group: All ages
_ Venue: Red Lecture Theatre
Early bilingualism in any languages, regardless of their status, prestige, and diffusion, can give children much more than two languages if they receive enough engaging input in a supporting environment. However, there are still many widespread old misconceptions – as well as some new ones – about what it means for a child to grow up with more than one language.
Get an overview of the facts, positive effects and possible problems of early bilingualism in families and schools from University of Edinburgh bilingualism expert Antonella Sorace. A 40-minute talk will be followed by 20 minutes for questions and answers. Families are welcome, as are all affected by the issues covered in this session.
"Antonella Sorace is the director of Bilingualism Matters, a research and information centre at the University of Edinburgh that promotes multilingualism in Scotland and across the globe. "For decades," she says, "there was this notion that learning two languages together, or too soon, would affect children. It would cause problems at school. That's always the message that parents got, but there's absolutely no evidence of that; in fact, quite the opposite." in The Guardian
This talk is part of the ESRC Festival of Social Science event, Multilingual Stories from Scottish Schools, and part of a series of events for the Edinburgh Multilingual Stories Festival 2019.