Neu! Reekie! presents Tongue & Groove
Neu! Reekie! presents Tongue & Groove
19:30 - 22:00
(2h30m)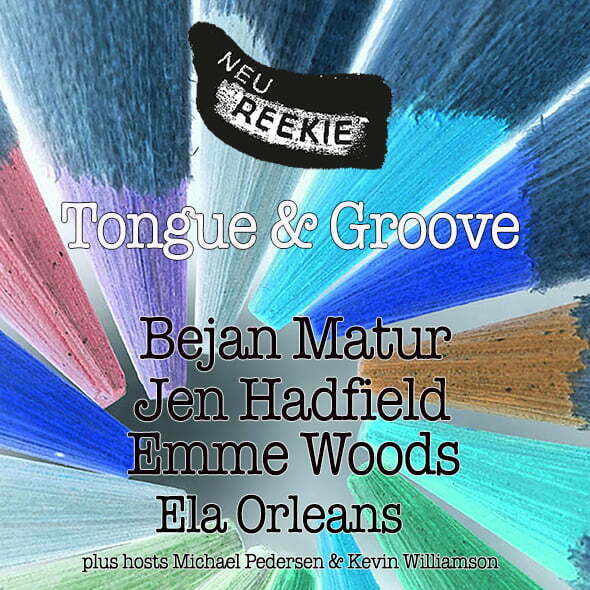 This event is not wheelchair-user accessible
_ Price: £7
/ £5
_ Age Group: 16+
_ Venue: Red Lecture Theatre
Poetry: Bejan Matur & Jen Hadfield
Music: Ela Orleans & Emme Woods
Hosts: Michael Pedersen & Kevin Williamson
Plus a short film showcase
This is the launch of a new series of events with the Poetry Translation Centre and Neu! Reekie!
is a multi-award-winning Kurdish poet and writer, currently living in Athens. She is a leading figure in the bold new women's poetry emerging from the Middle East. She is the author of nine collections of poetry in Turkish, and has also written prose books and words for the stage. She is currently working on a new collection in Kurdish, her mother tongue.
was born in Cheshire and lives in Shetland, whose landscape and natural life persistently informs her work. She is the author of three poetry collections, including the T.S. Eliot Prize-winning Nigh-No-Place, and is currently Writer in Residence at Glasgow University and Glasgow School of Art, supported by Creative Scotland.
'The poems in the chapbook 'If this is a lament' were translated by Jen Hadfield working with the translator and writer Canan Marasligil. This method of translation, which foregrounds mutual respect and collaboration, has been championed by the Poetry Translation Centre since it was founded in 2004.'
Hailing from Clackmannanshire, near Stirling, Emme Woods has seized the hearts and minds of the Scottish music scene with her brooding bluesy rock and effortless swagger. In the past year, she has released her first two singles on the Last Night From Glasgow label, and had music featuring in BBC televisionproductions, as well as The Space Between' [Film] Soundtrack produced by Amy Jo Johnson [Power Rangers, Felicity, Flashpoint]. She has played dates in Europe, US and the UK and has supported a number of well known artists from home and abroad on their Glasgow dates. Gathering regular national press coverage and radio play, she was tipped to be one to watch in 2017 by the Scottish Sun.
Polish born / Glasgow based musician, composer, SAY Award shortlisted & beyond.
'Ela Orleans is a revelation. Both utterly timeless and of the moment.' Rough Trade
"…Orleans has an uncanny knack for making electronics sound organic, being one of the only artists actually worthy of the descriptor Folktronica. But this isnt some one-dimensional concept of Joan Baez folk we are talking about, these are the folk dances of the 21st century, cold and pastoral hymns to our modern age" Mishka Bloglin