Remembered/Imagined
Mr McFall's Chamber, Maeve Mackinnon, Angus Peter Campbell
19:30 - 20:40
(70)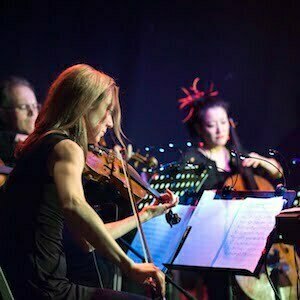 _ Price: £10
/ £5
_ Age Group: U
_ Venue: Main Hall
Tickets
Presenting seven of Scotland's creative artists as you've never seen them before…
Traditional musicians and composers Amble Skuse, Ailie Robertson and Mike Vass have teamed up with writers Angus Peter Campbell, Sophie Cooke, Rebecca Sharp and Charlotte Murray to create new works of music and words inspired by the archive of Scottish cultural treasures, The School of Scottish Studies. It is a treasure trove of recordings of songs, music, tales, verse, customs, beliefs and oral history. Hear them retold and reimagined through the creative collaboration of some of the country's leading artists. Scotland's past in the present.
The premiere concerts take place in 2014 performed by singer Maeve Mackinnon and Mr McFall's Chamber, an ensemble with a reputation for their eclecticism and performances of unusual and exciting music.
Four new works have been specially commissioned for this tour and are interwoven with beautiful traditional repertoire, creating an hour's performance that captures the riches of our cultural history through music and words with live instrumental, vocal and electronic sound.
Featuring a world premiere performance by the Edinburgh Youth Gaitherin'
Supported by Creative Scotland, PRSF Women Make Music, The Robertson Trust
In partnership with The School of Scottish Studies Archive at the University of Edinburgh, Hands Up For Trad
https://www.facebook.com/pages/Mr-McFalls-Chamber/291142979595?ref=hl
http://www.rememberedimagined.org/