Rough Mix
18:00 - 19:20
(1h20m)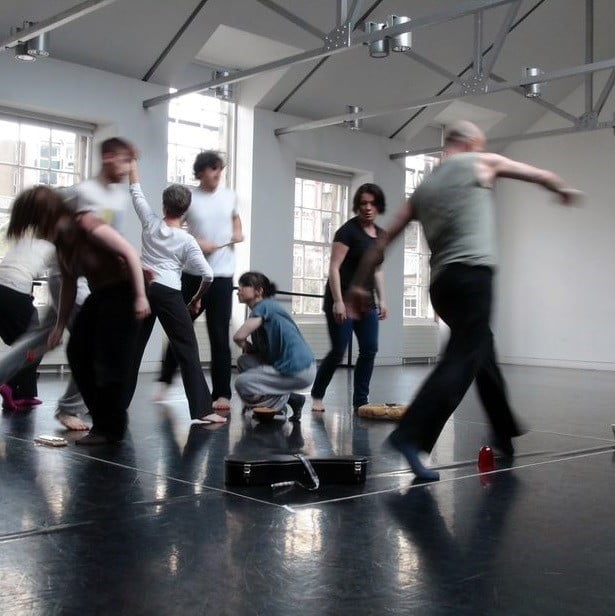 _ Price: Free (ticketed)
_ Age Group: 16+ (under 18s accompanied)
_ Venue: Old Lab
Company: Magnetic North
Supporting: Creative Scotland, Jerwood Arts, British Council, Québec Ministère de la Culture et des Communications.
Take five experienced artists bursting with ideas, mix with six performers and two early career practitioners in a studio and await results – we welcome this renowned multi-art form creative lab to manipulate for the first time.
Selected experienced artists come with a starting point for a new project. Each has dedicated time to work on their idea, as well as the opportnity to observe and collaborate with one another. At the end of two weeks of exploration and experimentation the results are shared informally with an audience: this is your opportunity to see exciting new work take its first steps.
This year manipulate and the Festival de Casteliers (Canada) are collaborating with Magnetic North to kick start a new collaboration at Rough Mix between two puppetry artists, one from Québec and one from Scotland.
Magnetic North has run ten previous Rough Mix residencies, generating a wide range of work, including Magnetic North's WALDEN, Andy Cannon's SPACE APE, and Catherin Wheels' WHIRLYGIG.
Magnetic North is an award-winning theatre company based in Edinburgh, Scotland, formed in 1999 by theatre and opera director Nicholas Bone.
Our unique five part programme integrates artist development and support with production and has evolved in respond to the needs of artists.
We have collaborated with organisations like the Southbank Centre, Tramway, Comar, Dundee Rep and Cumbernauld Theatre to produce work. Among our recent productions are PASS THE SPOON – a collaboration with Turner Prize nominee David Shrigley and award-winning composer David Fennessey A WALK AT THE EDGE OF THE WORLD an award-winning collaboration with environmental artists Sans facon and SEX AND GOD a play by the acclaimed playwright Linda McLean.