Searching For The Unimagined Conscience of My Race
Searching For The Unimagined Conscience of My Race
Denis Buckley
22.00
(All evening)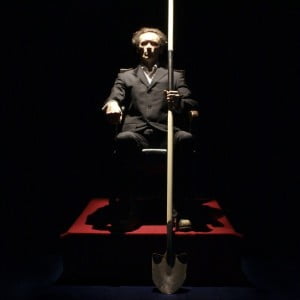 In 2011 the artist and the Wicklow Art Centre in Ireland engaged visitors on perceptions of identity following the loss the previous year of fiscal sovereignty.
The process culminated by showing a 20min film work, SEARCHING FOR THE UNIMAGINED CONSCIENCE OF MY RACE. The work was shot, edited and premiered during the engagement.
For the engagement the artist adopted the persona of The Irishman, based on Philip Donnellan's 1966 documentary THE IRISHMAN: PORTRAIT OF EXILE. The persona has identifying motifs. The labourer's black suit and white shirt, the steel suitcase and the long handled Irish pattern shovel.
In the film The Irishman returns to Ireland for the last time before dying. He drags his suitcase from London back to The West Coast. Once there he burns his shovel on the beach. This begins his Nostos, his slow return to place.
This August 10th Denis Buckley will drag his suitcase to a one-off screening of his film work SEARCHING FOR THE UNIMAGINED CONSCIENCE OF MY RACE. The film will be projected on the courtyard wall of Summerhall. Alongside the projected screen the artist will formally "decommission" his shovel, setting the handle ablaze before departing.
Denis Buckley was born in Co Kerry and emigrated to England after art school. He has taken interventions/film/photo works to clubs, galleries, festivals and onto the street worldwide. He lives in London.