Summerhall and St. Andrew's Fair Saturday present: Fair Play
Summerhall and St. Andrew's Fair Saturday present: Fair Play
19:30 - 22:30
(3h)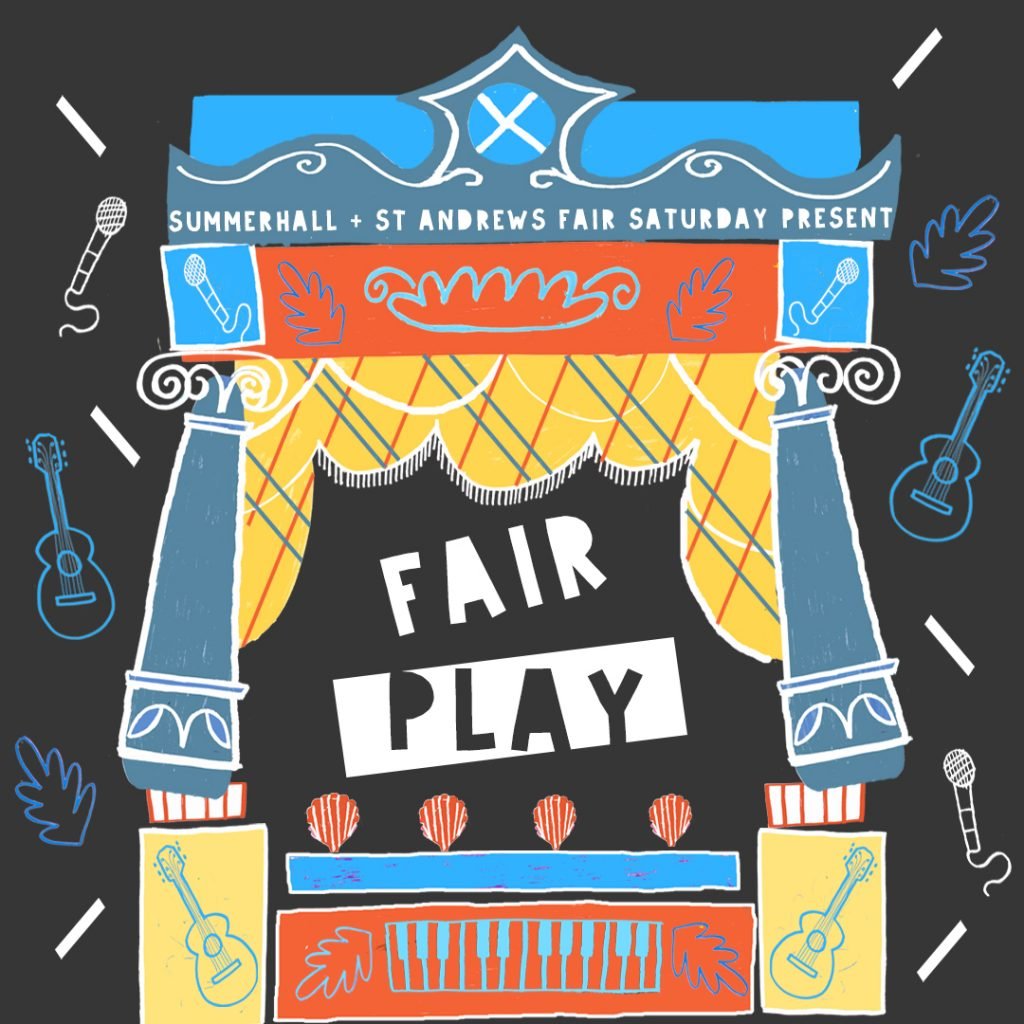 Standing only. Please contact venue with any access requirements.
_ Price: £12
_ Age Group: 16+ (under 18s accompanied)
_ Venue: The Dissection Room
Tickets
'Fair Saturday: A global movement supporting social causes through art and culture.'
Edinburgh's favourite independent performing arts venue Summerhall has teamed up with international cultural phenomenon Fair Saturday this St Andrew's Day to present FAIR PLAY, a celebration fundraiser for our burgeoning Artist Development Programme.
In 2018/19, we supported more artists than ever before; musicians, poets, actors, dancers, writers, novelists and visual artists were given space, time and money to develop their work. FAIR PLAY will enable Summerhall to keep running the Artist Development Programme, with all profits from tickets and going straight into the ADP pot.
Cool off from the Black Friday rampage with a jam-packed night featuring some of the mega-talented local artists who have been supported by Summerhall. There'll be performances from internationally renowned Scottish novelist and poet Jenni Fagan, writer in residence at Summerhall thanks to the Dr Gavin Wallace Fellowship and author of The Panopticon; haunting electronica inspired by the depths of Icelandic winter from SHHE, developed in the Summerhall Lab mini-residency; music from 2019's Nothing Ever Happens Here… Associate musicians; Harry Harris and Little King; all MC'd by the Autopsy Award-winning (Daddy Drag, Fringe 2019) poet and theatre maker Leyla Josephine!
St Andrew's Fair Saturday is a Scottish Government initiative which is being delivered by the Fair Saturday Foundation.
Who's performing
Patron Saint of Literary Street Urchins — The New York Times. Jenni Fagan has published five poetry collections, two novels, had a sold out play staged, her feature film with Sixteen Films is in production & she is published in eight languages.
"Whilst working as writer in residence at Summerhall, I've been creating a poetry collection called The Bone Library. Poems from the collection are beginning to go up around the building in gold letters on the walls, it is inspired as a form of kintsugi —a Japanese tradition whereby they believe an item is only truly whole and unique if it has been shattered then carefully put back together, celebrating all the cracks by filling them with gold.
I am filling the dead spaces and cracks of Summerhall with poetry in gold. I'm also engraving bones in the workshop, with poetry. The bones were here when the building was the Royal Dick Vet and so it's a link between old and new uses of the building."
Cine films are being made in the middle of the night in various places around the building, this is a one-off reading from work written over the last year.
SHHE is the alter-ego of Scottish-Portuguese artist and producer Su Shaw. Her self-titled debut album tracks a period of intense personal change. The resulting record is a sparse, haunting and atmospheric journey of introspection and exploration of identity that demonstrates SHHE's ability to capture movement, change and the light and darkness that haunt the human condition. As she puts it: "Each song on the album is questioning identity but under guises and levels."
The album is an encapsulation of Shaw's breath-taking gift for wrapping carefully constructed electronic soundscapes around delicate yet self-assured vocals – lilting melodies that linger long after they are heard. SHHE has found herself on the precipice of unlimited creativity and she's ready to dive in headfirst. Her self-titled debut album is only the beginning of this journey.
"This year I used my time as a Nothing Ever Happens Here… associate artist to work with other musicians ahead of going into the studio for my third album, I FEEL DRUNK ALL THE TIME, which was released in June.
As well as my goal to produce a great album, I also wanted to use the year to work on expanding my live sound too. I'll be performing with some of the musicians who appeared on the record, playing tracks from it as well as older material we've been able to re-arrange, and some brand new stuff that's also come from the development time."
Little King is the alias of Matt Regan, a Glasgow based songwriter, composer and writer who harbours a theatrical approach to making albums. His first album Greater Belfast became a critically acclaimed award winning theatre show which 'made a mockery of all the old boundary-defining labels such as "gig", "theatre" and "spoken word", or indeed "pop" and "classical music"' (The Guardian).

Following on from this is The Swansong Of Steam, an album framed by a train journey from London Underground to the island of Gometra. It travels through the past to the present, sounding like old cinema melodrama, and talks about the poetry of Michael Donaghy, real love, and magic tricks.