Summerhall Christmas Market 2015
Summerhall Christmas Market 2015
Summerhall Events
11:00-17:00
(6 hours )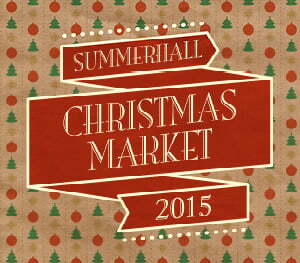 Tickets available on the door
_ Price: £2
/ Under 18's Free
_ Age Group: U
_ Venue: Summerhall
Summerhall Events are delighted to invite you to Summerhall for its sell out annual Christmas Market.
This year we will host EVEN MORE stalls than ever before to give you a huge range of gifts and treats for friends,family, and of course- you!
It wouldn't be the Summerhall Christmas Market without welcoming back Summerhall Singers to entertain us with festive carols- they are not to be missed. (Performance times 12:00-13:00 and 14:00-15:00)
Keeping you well fed and watered are our tasty guest food vendors and very own Summerhall bar serving up traditional Gluhwein and The Summerhall Cafe for snacks, treats and hot drinks.
Not forgetting the most important family members at Christmas, the little ones- this year our resident Zoom Club will be opening it's doors to keep the children entertained with fun filled activities, including a festive photobooth!
So come along and enjoy a fun-filled day with family and friends all under one roof.
Our local and unique stallholders include:
Gusto Artisan Foods, Holly Sharpe Drawings, The Edinburgh Natural Skincare Company, The Wee Boulangerie, The Marshmallow Lady, Bonnach by The Ceic Company, Kathleen Meaney Illustration, Ocelot Chocolate, Gourmet Dog Treats,  Miya Hayes Jewellery, Gracie J, A Pair of Blue Eyes, Dragonfly Gifts, Zyzanna Illustration, Kiaz Designs,
Victoria Gazeley Artist, XS Silver, K Creations Edinburgh, The Edinburgh Bookshop, Jack Fleuriste, KamLing Designs, Lillies and Dreams, NN Candles, Polymorphics, Tylers Attic, Passion Earth, Tante Rica, Pappu Mama, Upcycled World, Totseat, Salgallery, Poppy & Mimi, Claire Barcley Draws, Whimsical Furnishings, Chest, Heart & Stroke Scotland, Dibujo Design, Saskia Gavin, The Crimson Coo, Rockpool Trading, Mancelina, Koshka Design, Whisky Frames, That's Jammy, Sewing Club, Flybybella, Brass Cat Design, Wizard Drops, Joanna Robson, Bitter Lime Designs and Robert Pereira Hind Photography & Amanda Baron Glass.
Summerhall Residents- The Summerhall Shop, Pickering's Gin, Coco Chocolate, Barney's Beer, Badger and Baird and Helen Chalmers, Philippe De Bievre Pies, Jen Cunningham & Maeberry Jewellery, Fiona Dean and Megan Adair & Susan Macleod Jewellery.
Our guest food vendors are Rost, Harajuku Kitchen, Barnacles and Bones and Ninja Buns and the Crema Caravan.
Guaranteed even to get Scrooge in the festive spirit!
Check out our Facebook Page for up to date information:
https://www.facebook.com/events/659812617495258/
*Please note unfortunately one of our market spaces is not wheelchairs accessible, entry is via two steps- please contact Summerhall for further information*