Summerhall Christmas Market 2016
Summerhall Christmas Market 2016
11:00-17:00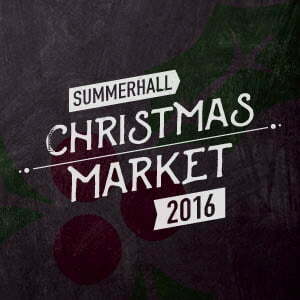 Tickets available on the door
_ Price: £2 (Under 18's Free)
_ Age Group: universal
_ Venue: Summerhall
Summerhall is delighted to announce our annual Christmas Market will take place on Sunday 11th December 2016.
This year we are excited to announce a FOURTH room will host more stalls to ensure you are not short of choice. As always our stalls will be showcasing a huge range of gifts and unique finds for friends,family, and of course – you.
As tradition, the Summerhall Singers will be entertaining us with festive carols- they are not to be missed. (Performance times 12:00-13:00 and 14:00-15:00, performing in the courtyard and inside the venue).
The Summerhall Cafe and The Royal Drink Bar will be open as usual with plenty of food and drink choices.
Our courtyard bar will be keeping you warm and your spirits up serving traditional Gluhwein whilst our guests food vendors will leave you spoilt for choice.
The Zoom Club returns for their 4th year collaborating with the market to keep the little ones busy.
Our list of stallholders:
Summerhall Residents
The Summerhall Shop,
Pickering's Gin,
Coco Chocolate,
Barney's Beer,
Badger and Baird
Helen Chalmers Jewellery,
Megan AdairJen Cunningham,
Maeberry Jewellery,
Fiona Dean Artist,
Susan Macleod Jewellery
XS Silver
Local Businesses
Gold Leaf Fine Art,
Bitter Lime Designs,
Tylers Attic,
The Marshmallow Lady,
Tea with Jud,
Vintage kitten,
Kathleen Meaney Illustration,
The Crimson Coo,
Wizardrops,
That's Jammy,
Jenni Douglas Designs,
Claire Barclay Draws,
Liz Tainsh Designs,
Mancelina,
Kiazdesigns.uk,
Emma Neale Handmade,
The Dragonfly,
Edinburgh Bookshop,
Whimsical Furnishings,
Dinky Dot Knitwear,
Tethera greys,
Little Letter Studio,
Gusto Artisan Foods,
Lilies & Dreams,
Oohkatieq illustration,
The Spice Witch,
Gourmet Dog Treats,
Molly Collins handknits,
Tasty Buns Bakery,
Rockpool Trading,
Auntie Beanie,
Lauren Smith,
Red Fox Design,
The Wee Boulangerie,
Hook and Teasel,
Polymorphics,
Salgallery,
Alice Newman Illustration,
The Store Hus,
Bark & Hare,
The Archway Hatter,
 koshka design,
Jack Fleuriste,
Gracie J & Modjool,
Whiskey Frames,
Brass Cat Designs,
Flybybella,
Ryan McEwan Photography Scotland,
Saskia Gavin,
Pappu Mama,
Jupitar Artland,
Obscenerie,
Lia B,
Ocelot Chocolate,
Passion Earth,
TeenieTings&Terrariums,
UpcycledWorld,
(HamishMash),
The Ceic Company,
Indy Prints by Stewart Bremner
Covet.
Our guest food vendors are Rost, Linton & Co and more TBC.
Join our Facebook page for event updates:
Summerhall Christmas Market Facebook 2016
Tickets are available on the door on the day of the event.
*Please note unfortunately one of our market spaces is not wheelchairs accessible, entry is via two steps- please contact Summerhall for further information*