Summerhall Christmas Market 2018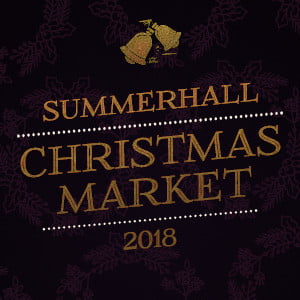 Admission on the door
_ Price: £2/Under 16's Free
_ Age Group: U
_ Venue: Summerhall
For more information on all stallholders taking part this year, please click here.
This year Summerhall's Christmas Market will be packed full of local businesses selling unique gift ideas whilst our food vendors serve up delicious food and drink in our Courtyard.
Alongside our stallholders we'll have music, activities and workshops to get you in the Festive mood.
Tickets are now available for our Festive Wreath Workshop led by Garland's Florist.
Click here for more details and to book: Festive Wreath Workshop Tickets
We are also thrilled to be teaming up for a second year with The Teapot Trust, Scotland's Children's Art Therapy Charity to run porcelain painting workshops. This is a great activity for Children (and Adults!) to create a memorial gift or keepsake. This is a drop-in workshop and all proceeds made will go to supporting the charity.
The Summerhall Singers will be back to perform carols from 1130-1230 and 1330-1430.
Throughout the market our Cafe and Shop, The Royal Dick Bar and Restaurant and our Exhibitions will be open to enjoy.
Particpants/stallholders:
That's Jammy, The Spice Witch, Kittiwake Design, Workshop After Six, Tylers Attic, Love Shortie, Jenni Douglas Designs, Emma Neale Handmade, Kate Charter, Liz Tainsh Designs, Rockpool Trading, The Kilted Donut, Bitter Lime Designs, Kathleen Illustration, Helen Chalmers Glass Jewellery, Mairi Helena, Badger & Baird, Bramble Moss, Lucky Cloud Skincare, Fluff felts, Susan MacLeod Jewellery, Maeberry Jewellery, MAiK,Nic Bakes, Tasty Buns Bakery, TeenieTingsTerrariums, Alice Newman Illustration, Bark & Hare, Holyrood Candles, Farrago Retro and Vintage, Little Letter Studio, K.Moods, Dandilion Gil, White Rabbit Stationery, Agelos Glass, Boyes Botanics, Amy Rowan Nash Illustration, Pickergin's Gin, Barney's Beer, Garlands Florist, Fiona Dean, Nicole R, Ryo Tamura, XS Silver, Spirit Tree Natural Skincare, Bisgifts, Greentree Crafts, Vica Gabor Jewellery, Daisy Belle Designs. andlolita…, Becka's Insects, Joanna Robson Illustration & Book Art, Ryan McEwan Photography, Victoria Rose Ball. MÄ Harel, Sandra Vick Ltd, Blackbird Studios, Telegramarama, Love That View, Jennifer Colquhoun, Blessed Unrest, Eddscape, Amaranthine, Hook and Teasel, Als Couzens Designs, NutMeg Glass, Polymorphics, Lia B Studio, Edinburgh Fermentarium, Hand Made Nepal, Obscenerie, Rachelle W Designs & Covet.
Please contact us for accessibility information.
Stall applications for Summerhall's Christmas Market 2018 have now closed.