Summerhall Festival Club
22.00
(5 hours)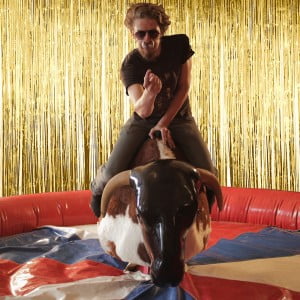 _ Price: Free, non-ticketed
_ Age Group: 16+
_ Venue: The Dissection Room
Festival Club is hosting late night international music and theatre for three nights in a row this week; 21, 22 & 23 August. All free events, all non-ticketed.
Tuesday 21 August
ALTE ZAHEN
Alte Zahen is a new project from Raphael Roginski and 'cultural fusion', a leading musician of the avant-garde Jewish scene in Warsaw, that reveals previously unknown music and culture fusion. Raphael Roginski with Bartlomiej Tycinski (guitar), Macio Moretti (bass) and Ola Rzepka (drums) merge Hasidic niguns with 1960's surf music.
PARROT IN THE TANK
Meet the last ones standing in a block of deadbeats, floozies, mermaids and Michael Bolton impersonators, as Parrot in the Tank invite you to join them on a late night trip to the dead-end of nowhere. Leave your morals and the door and prepare for the worst, because no-one likes Michael Bolton anymore. With cinematic design, surreal humour, film noir, live music and tigers.
www.parrotinthetank.com
TOM MARSHMAN – LEGS 11
Like most men, Tom has all too often taken his legs for granted. So imagine his surprise when he was shortlisted to the Pretty Polly competition looking for the best legs in the country. The show skips through a chorus line, candid tales, songs, photo shoots full with ardent girls, conveying a brave story of how to celebrate our bodies despite forever feeling like the misfit.
www.tommarshman.com
HARRY GILES
Harry Giles is a theatre-maker, performance poet, and general doer of things.
harrygiles.wordpress.com
ORANGE CLAW HAMMER
Orange Claw Hammer dramatically deconstruct the music of the departed genius of avant-rock, Captain Beefheart. A hell of a racket played with love by Steve Kettley (saxes), Stuart Allardyce (guitar), Dave Conway (bass) and Des Travis (drums)!
Plus MR CRITICULOUS' CRITICAL CONFESSIONS
And music from SNOWMAN