Summerhall Festival Club
Special Guest Hosts: CLAUDE AND MAUD
22.00
(til late)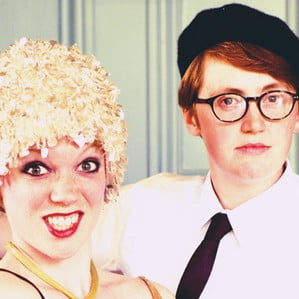 _ Price: Free, ticketed
_ Venue: The Dissection Room
Obscene inverts! Sexless termites! Hermaphroditic spinsters! Some of the things they've been called while touring the world with their timeless lavender cabaret (read: grubby lesbo freakshow).
You lucky Fringe goers can bask in the squalid sapphistry of your filthy hosts, Claude and Maud, presiding over a cabaret of the weird and the wonderful, all for free, 'til the wee small hours in Summerhall's incredible Dissection Room
FEATURING
KERO KERO BONITO
Two boys from Bromley, one girl from Taipei and one enigma from Port Victoria. Their idiosyncratic electronic pop channels the multi-sensory overload of 1990s consumer electronics, and is matched by an energetic live show featuring extreme stage theatrics.
Following attention from blogs and the mainstream music press, KKB's Edinburgh shows are their first appearances outside of London. If you've ever played a Nintendo 64, enjoyed a Burt Bacharach song or danced in your bedroom the chances are you'll like Kero Kero Bonito.
TEMPER TEMPER – THE PAIN OF DESIRE
Temper Temper's original epic sound fuses muscular jazz and glittering blues with a richly textured visual landscape, led by Wendy Bevan's hauntingly beautiful voice. Her otherworldly performance as a statuesque, ghostly femme fatale echoes the Pain of Desire.
FLAP!
A fiery but charming five piece band of brass, guts, words and skins who crank out up-tempo songs, turning ordinary shoes into dancing ones.
ALAN BISSETT
Glenfiddich Scottish Writer of the Year and 'rising star' (Scotsman), Alan Bissett, performs his first new work since his smash hit Moira Monologues. In The Red Hourglass Bissett plays five parts – three male, two female, none of them human, locked up together in a mysterious facility.
TOM MARSHMAN – LEGS 11
Like most men, Tom has all too often taken his legs for granted. So imagine his surprise when he was shortlisted to the Pretty Polly competition looking for the best legs in the country. The show skips through a chorus line, candid tales, songs, photo shoots full with ardent girls, conveying a brave story of how to celebrate our bodies despite forever feeling like the misfit.