Summerhall Sunday Sesh
First Sunday of the month
11:00 - 18:00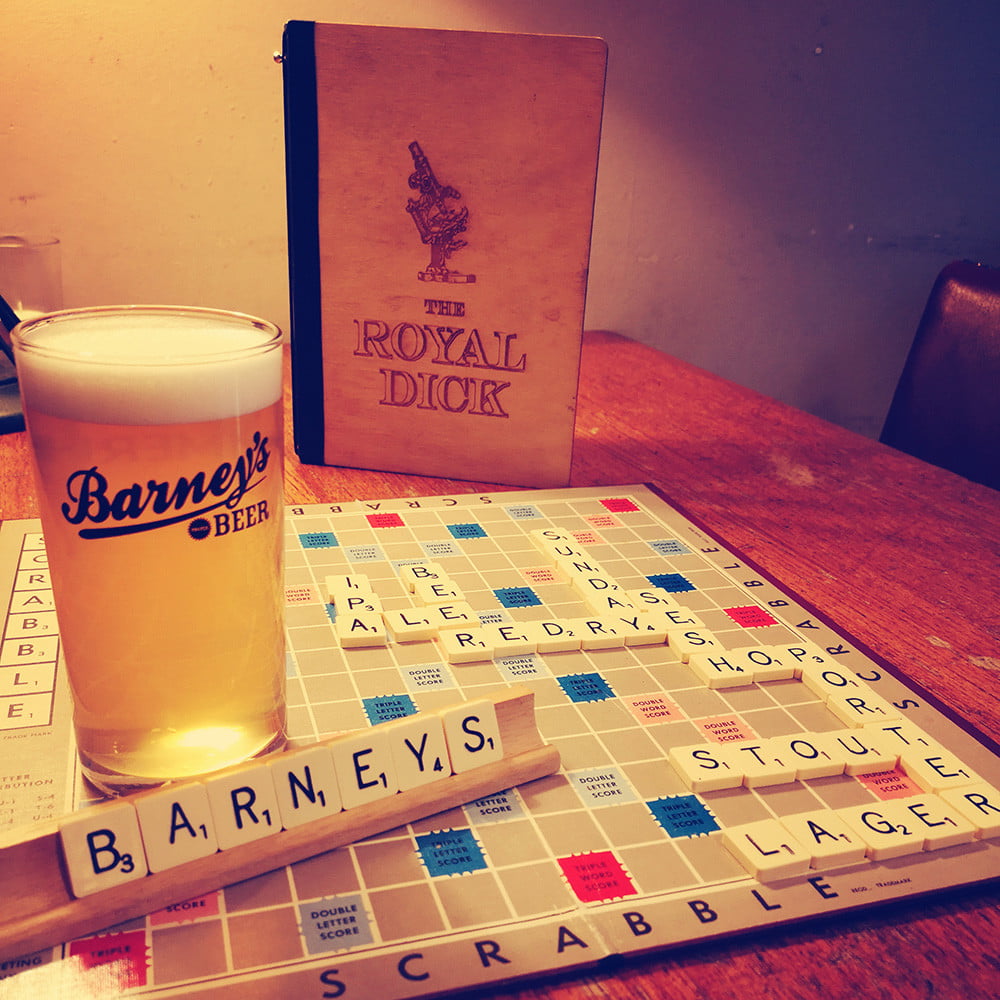 Accompanied children allowed until 8pm
Sunday can often feel like the weekend's over before it even started – but The Royal Dick and their neighbours Pickering's Gin and Barney's Beer are here to save you from your Sunday Blues.
On the first Sunday of every month, we're launching our special Sunday Sesh Menu across drinks and food with deals and one-offs to make your Sunday worth getting out of bed for.
On the gin side, we're becoming the new home of Bloody Mary's Ginny Sister – the Red Snapper. You've got the choice of the extra meaty 'Snap Shot' cocktail – a heady mix of beef consomme, scrumptious Red Snapper mix and Pickering's Gin garnished with a bit of Beef Jerky. Or, if you prefer to have your snappers meat-free we have the smashing new vegan Red Snapper as well; prepared with house made vegan 'Worcester Sauce', Pickering's Gin plus everything that makes a stupendous Snapper.
As an extra bonus for anyone who's tired of tomato, bored by the bloody and thinks spicy is sad, we have our gin Verdita!  – a tangy and refreshing mix of fresh herbs, pineapple, lime with just a splash of jalapeno juice (don't cry until you try!) and a generous helping of Pickering's to make your Sunday a mega fun-day.
For all you ale-aficionados we have Barney's producing a one-off beer, made specifically for us. Each month our brewery neighbours will cook up a new concoction which is exclusive to Sunday Sessions and will include everything from hop experimentations and fruit variations to downright weird and wonderful inventions.
To keep you well-fed amongst all these lovely libations we're launching our Sunday roasts to end your weekend the right way – with a rotating line-up of seasonal meats and veggie options, all freshly made here in the Royal Dick kitchens. Each one served with the mandatory Yorkshire pudding!
Summerhall Distillery will be open from 11am – 11.30am for all you Sunday Sesh early birds to drop in and have a wee nosey at where Pickering's Gin is made, whilst enjoying your special Sunday Sessions Red Snapper from The Royal Dick. The doors will be open for you to come and see where every bottle is filled, labelled and hand dipped in wax.
After your visit to Pickering's Gin Distillery it's just a short jaunt over the alleyway to Barney's Beer where they'll welcome you in to have a peak behind the scenes at Edinburgh's longest-established non-continuously operating brewery where every drop of Barney's Beer is made. (please note distillery and brewery will only be open between 11-11:30am so get here sharp so you don't miss out).
So come and get comfy, grab a paper or a board game, and settle in for Summerhall's Sunday Sessions.