Tinderbox Fest
Midday till 11pm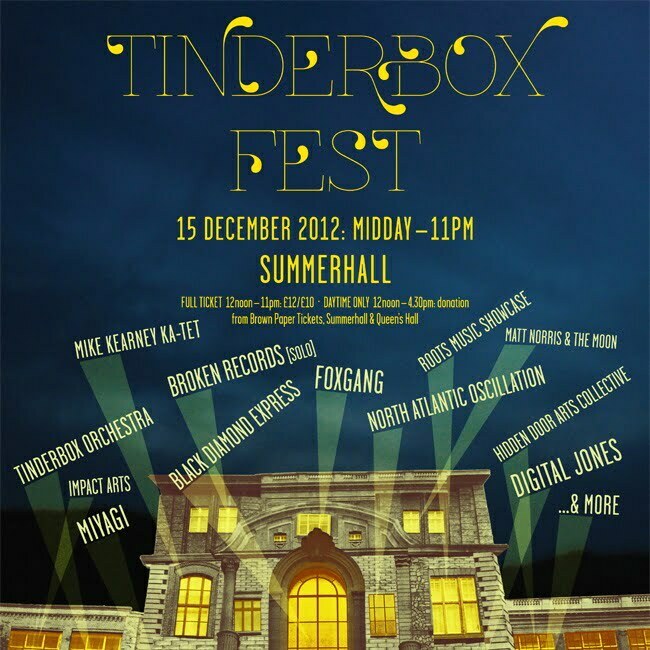 _ Price: Full Ticket (Midday - 11pm) - £12 (£10 student) + booking fee.
/ Donations are welcome before 4pm, full price tickets will need to be purchased after this time
_ Venue: Summerhall
Tinderbox Fest brings an explosion of music, arts and performance to Summerhall. Tinderbox Orchestra, Foxgang, Broken Records (solo) and North Atlantic Oscillation are just some of the 20+ highly acclaimed bands that will weave through Summerhall's winding corridors and array of mysterious rooms.  Bridging the gap between youth arts and the contemporary music and arts scene in Edinburgh. The festival will showcase up and coming young musicians and artists alongside some of Scotland's best bands and acts. A day long festival, starting at midday with a bustling market, live music, exhibitions and fashion shows (suitable for all the family), and taking off with eclectic acts and headline bands from 4pm until late… Explore and enjoy! Book early to avoid disappointment.
The line up of bands includes: Foxgang, Broken Records (solo set), Tinderbox Orchestra, North Atlantic Oscillation, Matt Noris and the Moon, Black Diamond Express, The Dark Jokes, Mike Kearney Ka-Tet, Digital Jones, Small Feet Little Toes, Mesmer and many more.
The young bands and youth projects involved includes, Tinderbox Orchestra, Tinderbox Frontiers, Impact Arts, and G-Code.
More information from www.tinderboxfest.org