Tramp
Molly and Me
Tue 07 Aug 2012
- Fri 24 Aug 2012
13 & 14 (22.30), 17-19 (midnight), 20-23 (22.30), 24 (midnight)
(40 mins)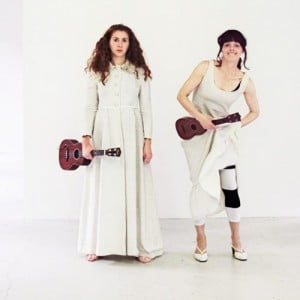 _ Price: Pay what you like!
_ Age Group: Universal
_ Venue: Red Lecture Theatre
In TRAMP Molly and Me humorously describe an odd mixture of light and serious everyday situations such as friendship, love, mass consumption, animals and youth suicide. They appear dressed all in white, looking like pioneers from the Wild West armed with ukuleles. They sing, talk, dance, hop around and play various instruments lying around. Their voices are fine and feminine but this is where all purity and gracefulness ends. In this performance Molly and Me combine the Dadaist tradition of sound and nonsense poetry with political, satirical undertones, adding a feeling of montage and cabaret to the show with an accessible appeal. TRAMP is concurrently fine, raw, fragile, ironic, serious and sarcastic.
Tickets: Pay as much or as little as you like / It's up to you!
'Supported by the Danish Arts Council Committee for International Visual Arts'