UNESCO European Literature Night Edinburgh
UNESCO European Literature Night Edinburgh
The Enemies Project
20:30-22:30
(2 hours )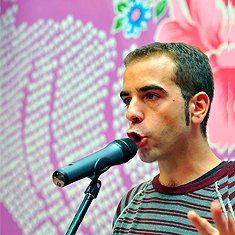 _ Price: This is a free event with limited capacity
_ Age Group: PG
_ Venue: Demonstration Room
Edinburgh's UNESCO European Literature Night – May Thursday 14th 2015
European Literature Night 2015 will be a groundbreaking evening of live contemporary literature, embedding itself in the architecture of the city of Edinburgh, inclusive of the cross cultural brilliance of many European nations and the local literary scene, and taking in both cutting edge collaborative and performance practise.
Four simultaneous events will place in the early evening of Thursday May 14th, with solo readings from some of Europe, and Edinburgh's, best at each, before all poets and audiences will congregate at Summerhall for the epic finale of the night, with 10 pairs of poets presenting brand new Camarade collaborations.
Each of these original works written between some of the most exciting poets in Europe, crossing the traditions sound, performance, art and poetry, will be written especially for this unique celebration of European poetry.
Colin Herd & Iain Morrison
Ryan Van Winkle & Calum Rodger
Graeme Smith & Mariusz Pisarski
nick-e melville & Anne Laure Coxam
Valgerður Þórodds & Katy Hastie
Esther Strauss & Ann Cotten
SJ Fowler & Jorg Piringer
Max Hofler & Robert Herbert McClean
Eduard Escoffet & Martin Bakero
JL Williams & Jessica Johannesson Gaitán
www.theenemiesproject.com/eln @enemiesproject
This will be a free event with a first come first serve policy, please arrive early to avoid dissapointment.