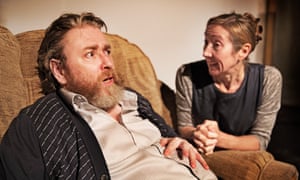 The future Gary McNair imagines is a raggedy one, worn down and patched up with dodgy stitches. In 2042, when the NHS has long been dismantled and patients are charged for doctor's appointments by the minute, most people can't afford private treatment. With sad warmth and dark humour, After the Cuts tests how far we'd go to save the person we love, anaesthetic or no anaesthetic.
On a set of stretched skin and tired sofas, Agnes (Pauline Knowles) and Jim (George Docherty) learn that their insurance doesn't cover Agnes's illness. You can't upgrade to the cancer package after you've been diagnosed with cancer. Barely able to pay the costs of the tests, let alone the surgery, Jim becomes obsessed with the idea that if he can fix the old hoover, maybe he can fix Agnes, too.
Docherty's performance is quiet and determined. Beth Morton's production gives Jim and Agnes' relationship the kind of comfortable warmth built by years together. What is stunning is that, as Jim turns the garage into a makeshift operating theatre, McNair manages to infuse the horror with humour. The couple's poor cat, Snuffles, and a passing badger or two becoming the butt of a rather sharp joke.
But there is also rage here. It is not hard to believe this is what our future could be, with echoes of Ireland's underground abortion clinics. They have the perfect venue in Summerhall's Demonstration Room, where ghosts of the site's 20th-century veterinary school seem to peer over Jim's shoulder as he picks up a scalpel. Tying a butcher's apron around his waist, he gives a moving, visceral description of his wife's heart and everything it contains. His desperate actions are a howl at the current government and its approach to public healthcare, with love overriding sense when no other option remains. After the cuts, it seems, we will all fall to pieces.