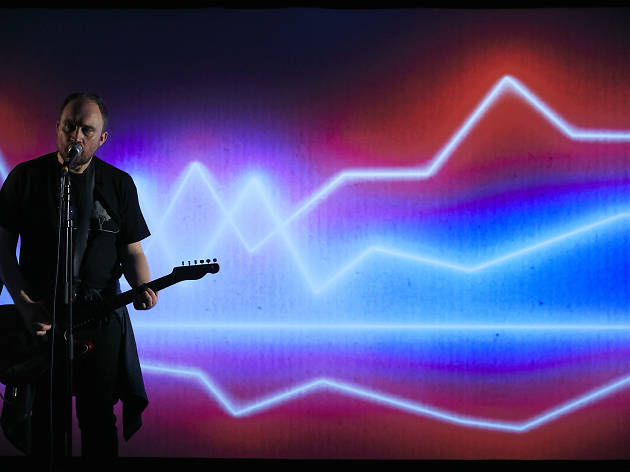 Chris Thorpe explores the meaning of nationality in this surreal allegorical travelogue
Four years ago Chris Thorpe – mercurial British performer, wordsmith and serial collaborator – teamed up with US director Rachel Chavkin – of New York experimentalists The TEAM – to create 'Confirmation'. A searing piece about modern day white supremacism, it was a tremendous critical smash, and in hindsight way ahead of the curve in terms of the conversation about the far right's grim global resurgence.
The intervening years have seen Thorpe work on a slew of shows – three alone last year, including his Royal Court debut 'Victory Condition' – while Chavkin's career has gone into orbit thanks to her Broadway musical 'Natasha, Pierre, and the Great Comet of 1812', and 'Hadestown', which will call in at the National Theatre this autumn before transferring to Broadway.
But first, it's genuinely heartening to see them back together at the Fringe, as Chavkin directs Thorpe's latest, 'Status'.
Like 'Confirmation', 'Status' has a serious message – which is that 'nationality' is more than a question of passports, but more a case of privilege. In a prologue type section, Thorpe describes a trip to Croatia in 2001, where he aroused the ire of the local police, but was effectively saved by being British; he contemplates the accumulated layers of history and ills of empire that got him to the point where Britishness spared him a beating.
Unlike 'Confirmation', which was more-or-less docutheatre, 'Status' reveals itself to be an elaborate allegorical shaggy dog story, which Thorpe declares not to be about Brexit, but which definitely is. Following a set-up explaining that he has two British passports, we move to a depressed Thorpe contemplating London the morning after the Brexit referendum; done with this shit, he scoops up his passports and resolves to get rid of them in some farflung country.
Cue a very surreal, hallucinatory roadtrip in which Thorpe attempts to bury the passports in the Navajo desert, hangs out with a stateless man in a horrifying Singapore tower block, and generally loses his mind trying to get rid of the passports while the nagging worry grows that doing so would be broadly irrelevant. There are also songs, though they're more a shift in texture for the rattling monologue than verse-chorus-verse jobbies.
Clearly it is substantially made up. It is possible Thorpe went to America and Singapore post-Brexit, but highly unlikely that he had a long chat with a coyote who had formerly been an East German man. Shades of Hunter S Thompson, Christopher Brett Bailey's 'This Is How We Die' and, indeed The TEAM chase the epic story, which represents one of Thorpe's more whimsical shows, though he still delivers it with a brute, bracing force.
'Status' probably won't set the Fringe alight quite as much as the more direct 'Confirmation' did, but in its way it's a far more ambitious show – madder, more theatrical, and it fundamentally still makes its point. It would be great to think the Thorpe/Chakin collaboration has a few more shows in it yet.