Residents Activity
Resident Zones
---
Tatiana Titova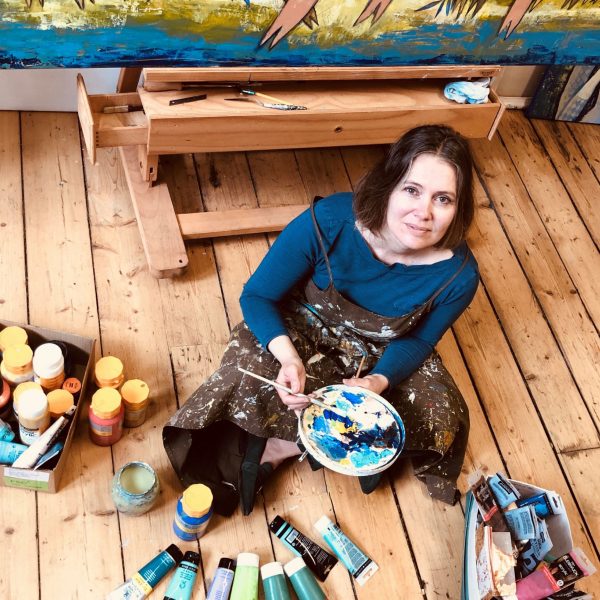 Hi! I am Tatiana – graphic designer, illustrator, artist. I was born and raised in St. Petersburg. Then my husband and I began travelling around the world and lived in different countries – CH, US, DE, NL – now we are in Scotland.
More than anything else, I love folklore, legends, and tales of different countries.
I am incredibly inspired by ancient legends. Their reflections are often found on my canvases: mermaids and centaurs, angels, and magical birds. I love to draw them. And I am also happy that they find a way to your heart.
I like to travel. It so happened that I have had the opportunity not only to come to an unfamiliar country for a week but to live in different places, to try to understand different cultures. It was great! Although sometimes difficult! After all, my works had to move with me as well! It's interesting for me to watch them.
I paint a picture, let it go, and then each of them has its own destiny. They fly around the world like birds. Some of them fly to an exhibition and return to me. And some fly away to live in a new place which I have never been to. And now, if I go there, I will know that somewhere here there is already a part of my soul, my work!
As you can see my projects remain in every country I happened to live in. In Amsterdam, it is Wolfert's dog, a moving light installation, in Russia – Greenfield tea, a popular tea brand. A project about immigrants will stay in Scotland, taking part in WWF Great Scottish Canvas.
Now I am settled in Summerhall, welcoming visitors to my studio. Do you want to purchase paintings or postcards? Or order a print design? You can easily find my studio in the Lower Church Galleries.
For more info and shop online welcome to my website:
www.titova.co.uk