A Space to Bless – Daily Blessing (BSL version)
Queen Jesus Productions
Mon 09 Aug 2021 @ 12:00 pm

-

Fri 13 Aug 2021 @ 12:10 pm

£5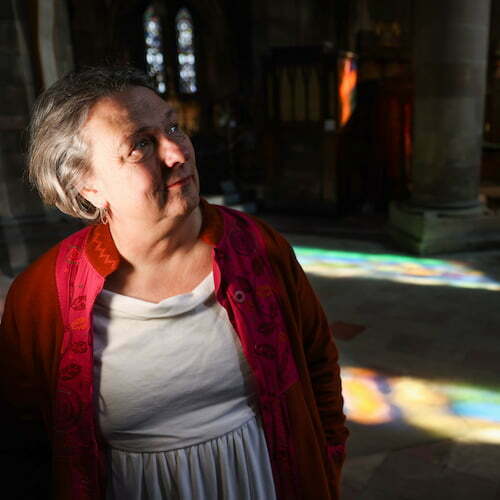 BSL signed performances. Captioning Available. This show is a series of daily blessings taking place at midday from 09-13 August. At midday on the sixth day (Saturday 14 August), all five blessings will be available on demand. You will be able to access a new blessing through your booking every day at 12pm until Saturday 14 August, when you will have access to all of the blessings collated together into one online show. Your £5 ticket gets you access to all five daily blessings, and the collation of all five which you will be free to watch until the end of the festival.
This is the BSL Signed version of the show – for the non-BSL signed version, head to this link.
Queen Jesus Productions presents A Space to Bless, live from St Mary's Cathedral – a radical queer space for contemplation, connection and meditation. Each daily chapter will be streamed at noon, offering a gathering, a text, space for meditation and a blessing for a short time each day – filmed at the stunning St Mary's Episcopal Cathedral, in Edinburgh. The blessings incorporate elements of Jo Clifford's groundbreaking play, The Gospel According to Jesus, Queen of Heaven, reimagined in this unique setting – inspired by the building's use, stunning features and fascinating history.
Created by Jo Clifford, Susan Worsfold, Stuart Platt, Yvonne Waddell and Annabel Cooper.
★★★★★ – alledinburghtheatre.com
★★★★ – alledinburghtheatre.com
Jesus Queen of Heaven still changing lives after 10 years on the road – The Scotsman
Meet the Artists:

Join the team behind the show for a free online Meet the Artist event on Friday 13th August @ 12:15pm.

Hosted by Summerhall's programming team via Zoom, this post-show discussion offers you the chance to find out more about the production, hear from the artists about the ideas behind the show, and ask your own questions.

Free event. RSVP required in advance – click here to book your space.
Event Category: