AFTER METAMORPHOSIS
Sun 05 Jun 2022 @ 7:30 pm

-

8:30 pm

£11 – £13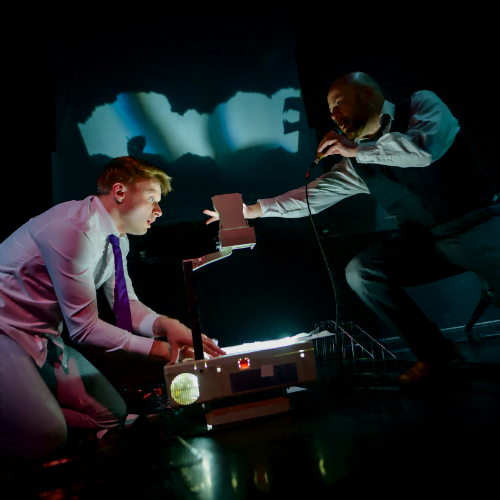 This event includes themes of body dysmorphia and self-harm.
This event is unserved, rowed seating. For additional access requirements, please contact the venue directly.
Is Gregor Samsa a bug wishing he was a man or a man wishing he was a bug?
AFTER METAMORPHOSIS is a high-octane, visceral reworking of Kafka's classic tale that weaponizes the surrealism of the original text into a wild rumpus; a satire of conformity.
In a world of political and ecological turmoil, where unfathomably large corporations control everything and our food supply chain is in jeopardy, are we just workers for the hive? Are we all Gregor Samsa?
Through intense physicality, visual theatre, micro-cinema, puppetry, vocals, and rumbling, seismic soundscapes, AFTER METAMORPHOSIS conjures a world of insects and humans coexisting. Are we really that different?
As intense and brooding as it is playful and mischievous, AFTER METAMORPHOSIS peers through the eyes of insects to both lampoon and celebrate humanity, scuttling — mandibles a whir — around themes of imposter syndrome, identity, capitalism, the hive mind, and our relationship with the environment and ecosystem.
Devised and performed by physical theatre artist Lewis Sherlock (Oceanallover, LARDS) and performance writer Ali Maloney (Caledonian Gothic, Ratcatcher, Hydronomicon). The combination of their respective practices — experiments with clowning, bouffon, butoh, and choral; dark, abstract rap burlesques and the physicality of voice — lends AFTER METAMORPHOSIS a potent palette.
"An inventive show that will make you see capitalism with a fresh pair of eyes."★★★★ The Skinny
"A compelling mixture of performed text, visual imagery, sound and movement (...) a thrilling 55-minute response to Franz Kafka's classic story"★★★★ The Scotsman
"Admirably alarming"The Stage
Event Category: