(cancelled) Animated Womxn: Aaronimation
Jane Aaron
Sat 05 Feb 2022 @ 2:30 pm

-

3:20 pm

£6 – £8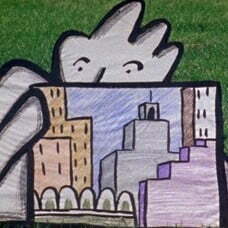 Unreserved seating.
Access: Hearing loop available. Access via 14-24 steps or staff-operated lift.
Contact venue with additional access requirements.
This event has been cancelled. View the organiser's full update at this link.
This programme will now be screen online on Saturday 5th and Sunday 6th February – to purchase tickets for the online screenings, visit this link.
A compilation of seven short experimental animated films by legendary American artist and animator Jane Aaron (1948-2015).
Imaginative colourful drawings and fabricated objects are pixilated on location in New York City, Catskill Mountains, Lake Placid NY, Long Island, MacDowell Colony NH, San Francisco, and Death Valley CA. No digital or optical effects were used in filming.
Aaron's experimental animations, compiled in the half-hour Aaronimation, are quintessentially cinematic. One frame at a time filmed with her Bolex camera, the films explore qualities unique to pre-digital movie-making augmented by Jane's own handmade production tools and techniques. The works capture an era of 16mm filmmaking that is now frozen in history by obsolescence of the film medium.
Seeing as a series, the viewer observes and understands the development of an artist's techniques from one idea to the next, over several years. Each film is a gallery exhibition of individual shots as separate works of art animating in a similar way. They are each filmed with a different single frame animation experiment in a variety of intriguing interior and exterior locations, yet they share a clear commonality of the artist's taste, style and thinking.
Aaron's work as an animator, both in her experimental and more commercial work, has been celebrated across the art world and received numerous awards. Her independent films have been shown at the Whitney Biennial, the Museum of Modern Art and at film festivals globally. Permanent collections of her work exist at the Museum of Modern Art, the Metropolitan Museum of Art, the Hirshhorn Museum and Sculpture Garden and the Walker Art Center. She received a Guggenheim Fellowship in 1985.
Event Category:
See Also: Film