(cancelled) Ill Lit
Kasia Zawadzka
Thu 03 Feb 2022 @ 6:00 pm

-

6:35 pm

£8 – £10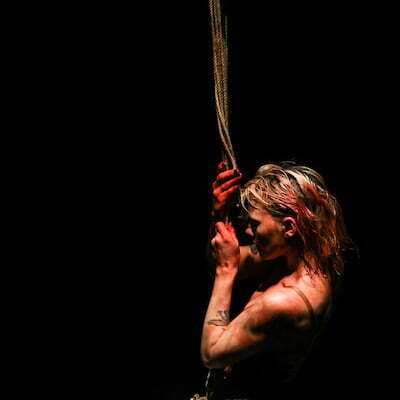 Unreserved seating. Content: Includes full nudity
Access: Non-verbal performance. Hearing Loop available. Ramped access to venue.
Contact venue with additional access requirements.
This event has been cancelled – please see a statement from the organiser at this link.
Deep into the darkness peering, long I stood there, wondering, fearing, doubting, dreaming dreams no mortal ever dared to dream before." – Edgar Allan Poe
Obsessive inner voice that doesn't let you be at peace. Pulling you back into your head. At times it feels like being a prisoner. It feels like drowning in thick slime, dark and cold.
And yet, at the end of the day, despite your inner suffering, you have to put your mask on, your uniform nice and clean, and get out. Go to work, school, for a meeting, walk the dog, shopping. Duties call.
We are not alone in this.
A powerful aerial and physical theatre performance using the Japanese art of shibari (rope bondage) exploring mental health, cycles of repetition and the struggle to break out.
Kasia Zawadzka is one of the pioneers of world self-suspension rope performance. She has worked with some of the worlds leading rope practitioners including Kinoko Hajime, Saki Kamijoo, Garth Knight and Esinem, to name a few.
Recent appearances include Torture Garden in Scotland, London and Rome. Edinburgh Fringe Festival 2015, 2015 and 2016. DIVE, BOUND, BARK, ANATOMY, KELBURN FESTIVAL, MANIPULATE FESTIVAL, MODERN PANIC FESTIVAL, HIDDEN DOOR FESTIVAL, as well as self-suspension performances throughout Europe including UK, Norway, Seychelles, Germany, France, Greece, Poland, Czech Republic, Swtizerland, Holland and more.
Event Category: