Installations: Acqua Alta – The Crossing of the Mirror & FAUNA
Adrien M & Claire B
Fri 28 Jan 2022

-

Sat 05 Feb 2022

£4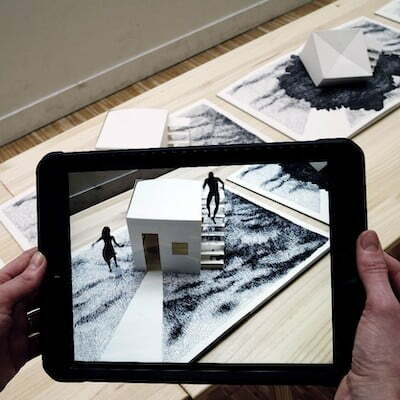 Access: venue has ramped access. Audience are required to move around Summerall to experience the installation.
Contact venue with additional access requirements.
A duo of interactive installations from Claire Bardainne & Adrien Mondot to discover in locations around Summerhall.
Explore stunning graphic art works and beautiful animations by French artists Adrien M & Claire and Brest Brest Brest. Start your journey in the Dean's Office exploring a world created with augmented reality pop up books before venturing out to find Fauna in ten locations around the building. A map is available to help you find our Manipulate 22 installation works.
Acqua Alta traces the odyssey of a man and a woman facing the rising waters, among storms, ink seas, breaking waves and jellyfish.
This interactive virtual reality installation tells the story of a woman, a man, a house. A daily routine, absurd and filled with discrepancies. But one wet rainy day, their life is turned upside down: the rising waters drown their home in an ink-coloured sea. It tells the tale of a disaster, unique and universal. It tells of losing and searching. It tells of the fear of the bizarre and otherness, and how to tame it.
Fauna is a series of ten large-format posters with a custom-built Augmented Reality application that can be discovered via your smartphone. Go on a treasure hunt to find and explore the imaginative worlds hidden behind the graphic prints.
Fantastic animals roaming in beautiful landscapes come to life using the latest Augmented Reality technology, while subtle soundscapes reveal imaginary wildlife hiding behind city walls.
Audiences will receive instructions to download the app to their smartphone, tablet or similar device. A tablet will be available at Summerhall for those without access to a device. Venue map available on request, all sites of Fauna have level access.

Event Category: